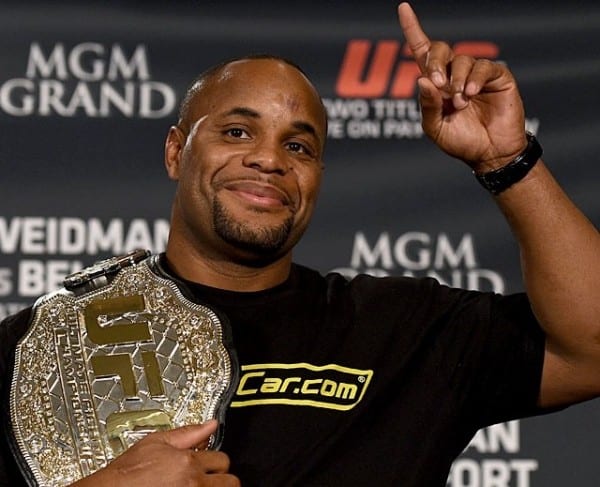 While Jon Jones might want the conversation of steroid usage gone from common discussion, UFC light heavyweight champion (and Jones' biggest rival) Daniel Cormier has no intentions of letting him off that easy.
Yesterday, Jones had complained during the UFC 214 media call that Cormier and fans were well aware that the two banned substances found in his system ahead of last year's UFC 200 stemmed from a contaminated sexual aid — not legitimately taken steroids.
"That actually gets to me a little bit, because I think deep down this motherfucker knows that I wouldn't do steroids," Jones said.
"C'mon now. C'mon now. You mean to tell me I'm fucking smart enough to outsmart fucking USADA and fucking the Nevada athletic commission for 10 years? I'm a mastermind steroid user that beat all these guys for 10 years? He knows in his heart I didn't do steroids. This whole thing has become an attack on Jon Jones' character."
The two banned substances found were both estrogen blockers, which are often taken following a steroid cycle to hide the effects of the original steroids. In Jones' case, he was found guilty by USADA of carelessness, as opposed to knowingly ingesting the drugs.
For Cormier, however, it's all noise — and he's going to have his fun either way.
"This is the thing," Cormier said, speaking on the UFC Unfiltered podcast. "He goes 'I don't want you guys saying I did steroids', so instead of steroids he says 'I did penis pills'. What are you using those for little guy? You can't get it up? You can't get it up?
"Let me tell you this right now," he continued. "When you're getting close to the fight and making you're weight, it does shrink. It does shrink. So maybe using those [dick] pills will help you. But we know what Jon's [dick] pills were. So either you be honest, or I'm gonna make fun of you for having a noodle that doesn't work."
"An actual noodle; Jon has a noodle."
Comments
comments