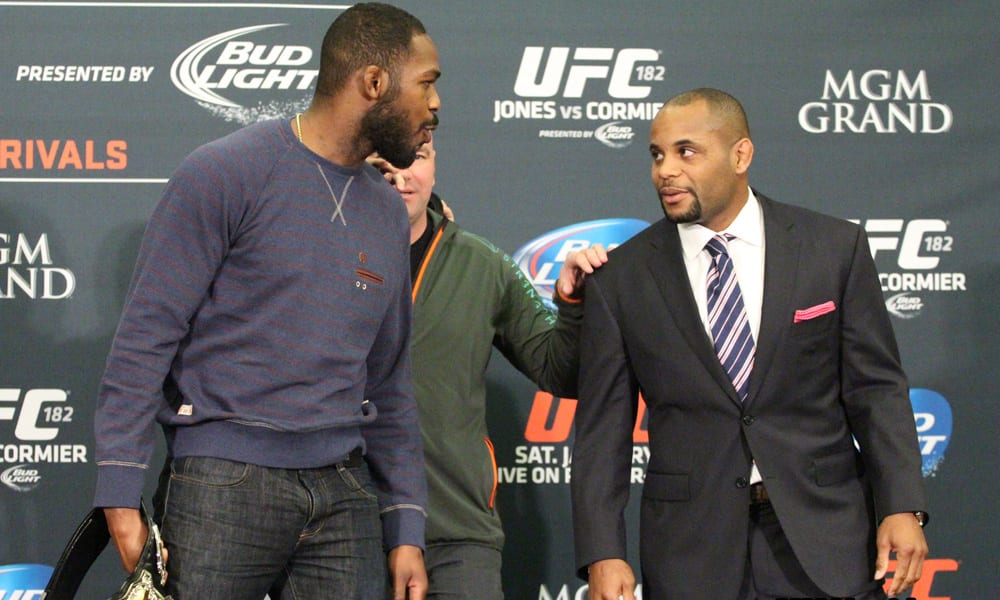 Daniel Cormier and Jon Jones aren't friends. They haven't been friends for years. In all likelihood, they'll never be friends.
Over the past few years, its seemed like every time their paths have crossed, they've either come to blows or come close to, but finally after years of conflict, the pair have shared a room without sharing ill feelings.
Cormier was speaking to ESPN on the red carpet of the ESPYS, where he won MMA fighter of the year, and revealed to reporter Marc Raimondi that he and Jones had both gone to check in to their hotel at the same time. And for once, there were no insults thrown.
"There is no script for this," Cormier said. "I check into my hotel and Jon Jones was checking in, so we just proceeded to check in to our hotel rooms. It was as normal can be. All my energy is on Stipe Miocic, I can't worry about anything outside of that, or nothing will be out there for me anymore. I need to worry about Stipe.
"The UFC were there, security were there, they kind of gave me a heads up and said, 'You wanna wait out in the car?'. Nah, I'm adult. I'm gonna go and check in. I got a fight with Stipe Miocic. That's my focus right now. We're at different weight classes."
Before winning Best MMA Fighter at the @ESPYS, @dc_mma checked into his hotel at the same time as rival Jon Jones.

He described the experience as "normal as can be." (via @marc_raimondi) pic.twitter.com/ANJdqB3qMA

— ESPN MMA (@espnmma) July 11, 2019
Cormier and Jones infamously fought in the lobby of the MGM Grand after a face off turned physical, and on a separate occasion moments before a press conference Cormier threw a bottle of water at his rival.
In an interview done with Brett Okamoto, Cormier believes that relationship dynamic will never change.
"We always fight," Cormier said. "This is not limited to times just in the Octagon. There have been occasions outside of the Octagon… there are situations outside of what the public knows where Jon and I have butted heads. It's just what it is. I've come to accept that my relationship in regards to him will always be that. I don't see why there's any reason why it should change, I don't care. I don't need him. I really don't need to fight him. If I do, it'll be on my terms now."
Comments
comments