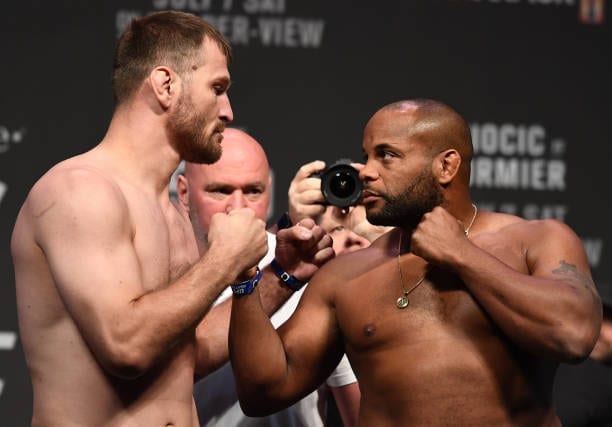 The extent of the eye injury suffered by Daniel Cormier in his UFC heavyweight title defeat to Stipe Miocic on Saturday night has been revealed.
ESPN's Ariel Helwani, a frequent broadcast partner of the now-retired ex-two division UFC champion, announced on social media Sunday that he had been in contact with Cormier who told him of his diagnosis.
"Daniel Cormier suffered a torn cornea last night," Helwani stated. "No timetable yet for recovery. Doctors said he won't need surgery just yet but they have to monitor how it heals before knowing for sure. He was discharged from the hospital late Saturday night."
The incident occurred roughly midway through the fight when an extended right hand of Miocic's clearly made contact with Cormier left eye. The injury clearly bothered Cormier in the cage, though referee Marc Goddard didn't see the incident and failed to temporarily stop the bout to allow time for Cormier to recover from the illegal shot.
Goddard later released an apology for failing to act.
"Look at my eye," Cormier said after the fight. "I couldn't see the rest of the fight. I can't see anything out of my left eye. It's black. It is what it is. It doesn't matter. I told Marc (referee) that he poked me, but he said it was a punch. But then after the fight, he said, 'Yeah, I saw it on the replay.' I just can't see out of my left eye. It doesn't matter, though. It is what it is.
"I'm not interested in fighting for anything but titles, and I don't imagine there's going to be a title in the future, so that will be it for me," he said. "I've had a long run, it's been great. I just fought my last fight for a heavyweight championship, and it was a pretty good fight."
Comments
comments