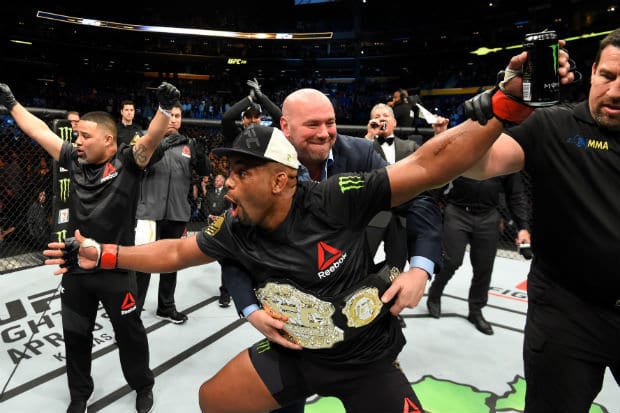 When Daniel Cormier beat Stipe Miocic at UFC 229, it took no more than a few minutes before things escalated. After his win, Cormier called former UFC heavyweight champion Brock Lesnar into the Octagon to instantly start pushing towards a money making contest next year.
And as Cormier heads into UFC 230 this weekend to defend his heavyweight title against Derrick Lewis, he has a sneaking suspicion Lesnar will be in attendance once again. And once again, Cormier knows there's an opportunity to get some tongues wagging.
Although this time, if Lesnar gets into the cage and begins to get physical, Cormier is more than ready to up the anti.
"Brock's gonna be there I guess," Cormier said, speaking on the Ariel Helwani MMA Show. "Brock's coming to lay claim to — but this time I'm not going to let him just push me. He comes up there? Right in the face. Slap him.
"If it's Brock [and] Jones sitting in the front, I say hi to Brock, throw my Monster can at Jones," Cormier said with a laugh. "I don't know man, Jones has got to fight. He's got to fight Gustafsson so that's not on my radar right now. I got to fight the beast."
And while Cormier isn't prepared to commit to calling Lesnar into the cage after a win, he does remember how intense things got last time out.
"Last time he was just sitting there smirking at me," Cormier said. "He's a big guy man, I don't think they make skinny suits for a guy like Brock. He was bigger than I thought though. I'm not going to lie, I might talk a lot of shit about Brock but Brock's big man. He's the real deal."
Comments
comments