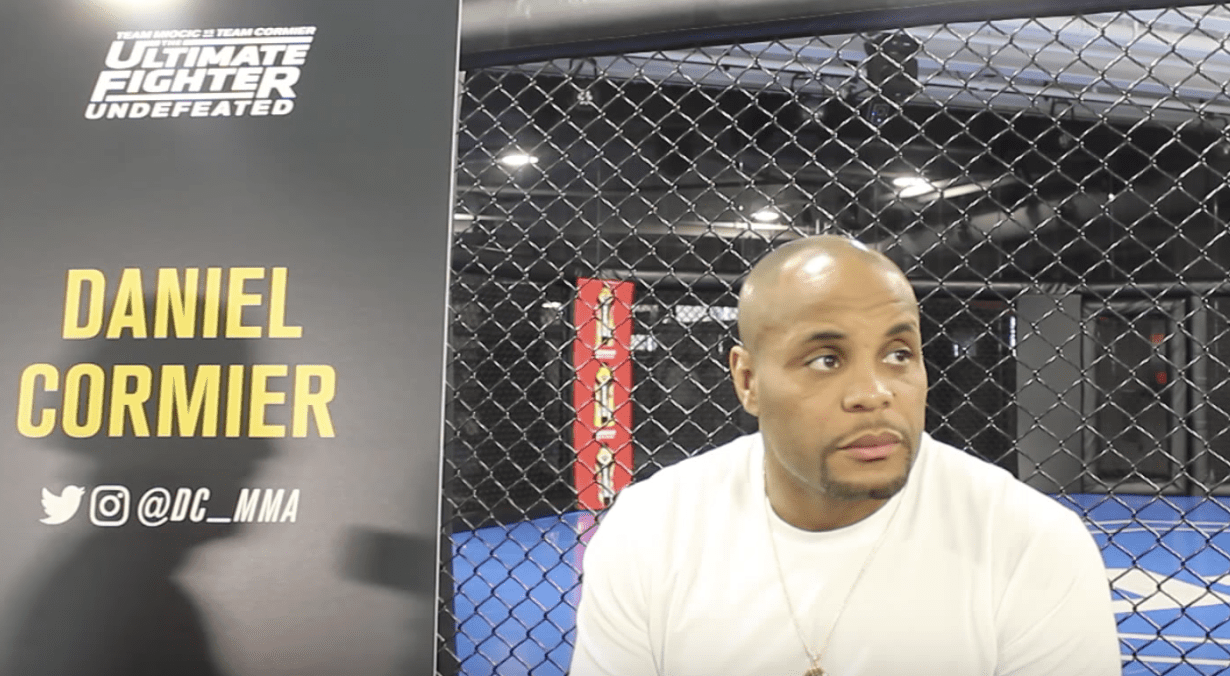 On Saturday night, it became apparent that Daniel Cormier's next heavyweight fight will be against Brock Lesnar, as soon as Lesnar was eligible to compete in the Octagon after his current USADA suspension was over.
That date is currently believed to be January of next year, with Lesnar reportedly entering the USADA testing pool sometime last week. For Cormier, it could mean the fight will be a swan song prior to his self-imposed retirement date in March of 2019.
So in the meantime, as the newly crowned double champion, Cormier is open to defending his UFC light heavyweight title prior to the Lesnar contest. The only issue is if there is a name at 205-pounds that could fit the bill of being a big enough name to make it worth Cormier's while to shed the pounds once again.
The most obvious choice would naturally be Cormier's old rival Jon Jones, who much like Lesnar is also on the sidelines with USADA issues at present. Should he not be back to action before Cormier walks away, Cormier has revealed another contender at 205-pounds he's open to meeting in the cage — former UFC light heavyweight champion and PRIDE legend Mauricio 'Shogun' Rua.
"Brock Lesnar will be the next heavyweight I fight, Brock Lesnar is not guarenteed to be my next fight," Cormier said, speaking with Ariel Helwani on the Ariel Helwani MMA Show. "Maybe I'll go fight Shogun, that'd be good. No, I'm serious, maybe I'll go fight Shogun because Shogun's won a lot of fights in a row. You know that's who I want to fight. If Shogun wins, I want to fight Shogun. That's who I'm fighting.
"I'll go fight Shogun, because he's a legend, he's a great guy. I'll go fight Shogun, and then I'll fight Lesnar. Because [Jon] Jones ain't gonna be back, I don't think. … Maybe if Shogun fights, and he wins, I'll go fight Shogun. A legend. Someone I respect. And then after that I'll go back to heavyweight — and also to kind of stick it to Gustafsson. I'll fight Shogun to stick it to Gustafsson."
The comments will no doubt  — and almost certainly were designed to — infuriate light heavyweight contender Alexander Gustafsson, who's been publicly and aggressively chasing a rematch with Cormier over the past few months. Both Gustafsson and Rua have dates already cemented, with Gustafsson meeting Volkan Oezdemir at UFC 227 next month, and Rua meeting Anthony Smith at UFC Hamburg in Germany on July 22.
According to Cormier, he's lost a lot of respect for the Swede since Gustafsson's new found vocal drive for a title shot.
"He keeps asking for an interim belt," Cormier said. "It's almost like he's acting like he beat me last time. Dude, I beat you four rounds to one. The only reason people question the other round is because he knocked me down in the third. I was beating that dude. Look man, I like Gus. Or at least I did like Gus a lot, but then all of a sudden he became very obnoxious in a sense that he was asking for the interim title, then he called out Luke Rockhold like a day after Luke Rockhold gets knocked.
"That's annoying man, that's like when Cain [Velasquez] lost to [Fabricio] Werdum, it'd be like everybody going, 'I wanna fight Cain'. Leave the guy alone. The guy just got beat. Yoel Romero's a savage. Nobody even knows the damage Luke took in that fight, and you're calling him out a day later. Luke's like a brother to me, so it really kind of pisses me off. It made Gustafsson public enemy number one."
Comments
comments