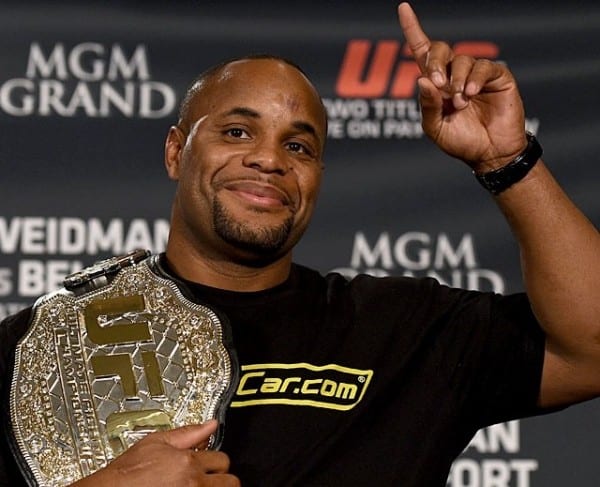 Daniel Cormier doesn't dislike Stipe Miocic. In fact, he understands the former heavyweight champion's frustration as he seeks a rematch. What he doesn't like is as inactivity.
Ever since Cormier defeated Miocic for the world title in July last year, Miocic has spent most of his MMA related time calling for a second contest, even recently claiming Cormier 'owed' him another bout. And while Cormier can appreciate what Miocic is trying to gain, he just believes the fact the Ohio native hasn't taken another bout since his defeat isn't the behaviour of a man dedicated to get another fight.
"This is crazy shit right here," Cormier said, speaking on MMAFighting's The MMA Hour. "Stipe hasn't fought in so long that Jon Jones will have fought twice since he last got to the Octagon. When's the last time that's happened? Jones will have had two fights and at the rate that he's fighting, maybe three by the time Stipe fights again if he waits and fights me in the summer. That's crazy, because Jones doesn't fight very often. That's crazy.
"I just don't like that I've fought again and he still hasn't fought."
It's not that Cormier doesn't understand. Actually, he understands more than most what it's like to feel you can do better than your outward showing. It's just that feeling isn't enough to garner what you want.
"I understand where he's coming from because I've been there with Jones twice and I'm like, 'God, I know I can beat him if I can just get another opportunity to do it. I know I can beat him'," Cormier said. "And it burns at you and it eats at you, especially the way that he lost the fight. I get it. But I don't have to really owe anything. I've said that before, I've said he deserves it. I've said that. He deserves a rematch if I don't get to fight Brock. I've always stood by that. But you can't just go, 'Well, you owe it to me.' I don't want to sit here and talk bad about Stipe because I like Stipe. I think he's a good guy. He's a fantastic father. He's a pillar of the community. He's a great fighter. I think he's great. But you can't sit there and say, 'He owes me'.
"When I lost to Jones the first time, I thought, 'Man, if I can just get another opportunity.' I didn't just sit and wait. I went right back to work at trying to re-earn the opportunity if they weren't going to give it to me. I wasn't the champion obviously, so the circumstances were different, but I right away scheduled a fight to try to get my way back to that fight and it's almost like he hasn't really taken that approach. That's one of the things where I'm kind of like, what's going on? Why hasn't he fought yet still?"
Comments
comments