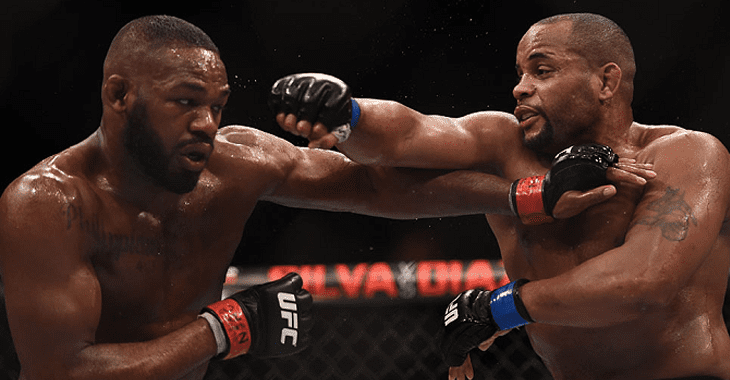 It's quite possible that there have never been two MMA fighters as inextricably as Jon Jones and Daniel Cormier.
The pair are widely regarded as two of the best pound for pound fighters of all time, and are easily considered the best 205-pound fighters to ever compete inside the UFC Octagon. Combine their unarguable skill with their ferocious dislike for each other, and you're given a rivalry that will stand the test of time.
Interestingly, Jones has two wins over Cormier, something Cormier has admitted puts their rivalry into question. But the fact of the matter remains: their shared dominance over every other competitor, and Jones' continued controversy involving banned substances means there is likely no other fight fans would see for either man than with each other.
And, as his career begins to draw near its conclusion, Cormier is fully on board.
"It's all I want," Cormier said, speaking on the Ariel Helwani MMA Show. "I think that when I fight Jones, I feel most complete, when I'm preparing for competition against that guy. It makes me train harder, it makes me train smarter, it makes me do everything right in preparation. I believe that if I do stick around, that would be the fight that I would do it for. And it would be at 205-pounds. Because I need to go and get that back from him."
That final part is something of a revelation.
Since Cormier moved up to heavyweight last July and defeated Stipe Miocic (whom he rematches in August), fans, pundits and UFC president Dana White have all speculated what a Jones vs. Cormier fight looks like when the pair don't cut weight. For a while, it had seemed that should a rematch take place, it would do so at Cormier's natural size, if only to add a new quality to proceedings.
For Cormier, it seems out of the question. You can't change the terms to better suit your chances.
"I don't need the deck stacked in my favour," Cormier said. "My whole life I've overcome odds, I've faced uphill battle after uphill battle my entire life, and I've always been able to get through it. This is one of the only things that I've not been able to conquer, and I need to go do it. I have to get it right, and I have to get it right on the same terms. If there's a fight out there, it'll be him and I again, and it'll be at 205-pounds."
–
Comments
comments