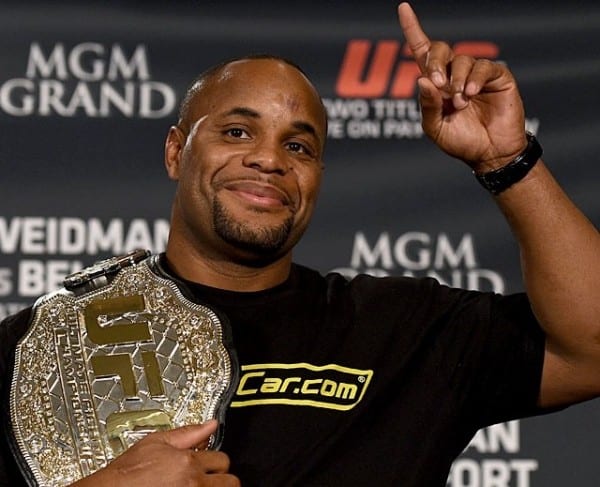 Despite everything, UFC heavyweight champion Daniel Cormier is not fighting Brock Lesnar. Instead, he'll step into the Octagon on August 17 to rematch Stipe Miocic, the man he defeated to win the title.
It's a rematch a year in the making, and one Miocic has been campaigning for ever since he left the Octagon last July as the new non-champion. For Cormier, it's an interesting conundrum. In the space of a week, he's gone from possibly fighting a mainstream attraction with a mainstream payday attached to facing a man he already defeated in the first round. Considering he had always said he was going to retire on his 40th birthday (which took place in March of this year), it begs the question why Cormier would willingly take a fight with what some could argue has more downside than upside.
"From the moment me and Brock were in the Octagon and we were shoving and we had the Wrestlemania moment, right afterwards [people] were saying, 'Well Stipe Miocic had defended this belt all these times, he was this, he was that, people called him the greatest heavyweight. … I always said I'd fight Stipe again if Lesnar couldn't fight, so let's fight Stipe," Cormier said, speaking on the Ariel Helwani MMA Show.
"I'm going to be motivated for the fight, that's one thing I'll always be, I'm very disciplined for my preparation for these competitions, I really am. My thing is, I'll go fight him again, I just don't know how I can beat him better. I don't know how I can beat him better than I beat him last time. But for me it's just about getting the victory. If I win a decision, then I win a decision. It doesn't matter, I just know the expectation from the people outside, it's tough to top the way I did it last time. That was just such a special moment to knock out the longest reigning heavyweight champ of all time within one round. It was truly, truly phenomenal.
"I do intend on beating him again, I do believe that just stylistically it's a good matchup for me, and I feel like as the fight was going on I was starting to get his timing, I was starting to kinda feel him. I just feel I'm a better mixed martial artist than Stipe."
The dynamic between the pair this time around, however, is noticeably different.
Last time the two fought, they famously had a conversation on the phone about accepting the fight with each other and how they could be compensated by the UFC fairly for a champion versus champion fight. Since Miocic lost the contest, however, he went on a very public campaign for a rematch, decrying Cormier's win as a fluke that could never be repeated, as well as posting plenty of social media clips sniping at Cormier's apparent disinterest in a second fight.
Cormier noticed.
"I have a little bit of a different approach to our relationship this time," Cormier said. "I did not like the approach that he took in just kind of waiting. I think he's so good, that even if he would have fought over the course of this year, he would still have been in the same position. So I don't necessarily feel that I have to be nice to him anymore.
"The whole time I said he was a bit entitled. It would have been different if we did not understand. These were conversations we had with the company, like one of you guys is going to get to fight Brock Lesnar. And he was just as happy as I was. So to make it seem I was doing something wrong after I was the one that won the fight, I just felt like it was unfair a little bit. Every now and again he posted a picture of him punching me or something, like yo, what? You punched me. Okay, we fought. Of course you punched me. … We had a fight, of course you have a picture of you punching me. Millions of people watched it. They saw you punch me. Don't put up a damn picture of you punching me and acting like I'm wronging you. I'm not wronging this guy, I'm doing exactly what we were told we're doing after our first fight. It felt entitled.
"When Jones beat me the first time, I immediately scheduled another fight and said, 'I'm going to fight Ryan Bader in New Orleans and figure out how I get back there'. Then he had the thing happen, and I had to fight [Anthony Johnson] for the belt. Then when Jones beat me in July, I said, 'Ok, I'm gonna take some time, but how to get back, do I go to heavyweight? How do I earn another fight with this guy?' That's all I can think about, and then the stuff happened three weeks later and I got the belt back. … So for me, I knew how bad I wanted to fight him again so I knew I was willing to do anything and not just sit there and wait and complain the whole time about not getting what you wanted."
Comments
comments