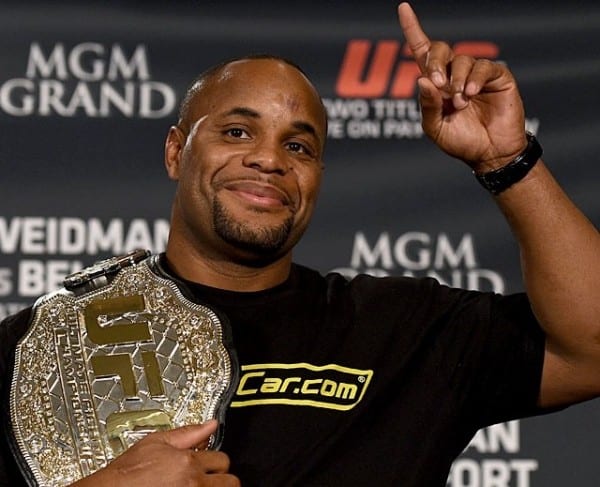 It's almost like Jon Jones' second USADA test failure has put him out of most MMA follower's minds. But if there is one person who has not forgotten the former champion, it's his longtime rival Daniel Cormier.
Just a couple of weeks before it was revealed Jones had failed a second test for the steroid Turinabol, Cormier and Jones met at UFC 214. Cormier was knocked out in the third round, losing his title before emotionally announcing that he no longer saw himself as Jones' rival.
Then, Jones' infraction became public knowledge, and Cormier was re-awarded the title he'd lost, with the UFC 214 contest overturned to a no contest. But while fans seem more willing to see Cormier as a legitimate champion, the man himself can't quite get behind that mindset.
"It's not like I'm as proud of [the belt], because of the loss," Cormier said, speaking on MMAFighting's The MMA Hour. "I mean, I'm not carrying it with me right now. It's not on the desk. Most champions come in here and they put it on the desk on display. I lost a fight. I almost feel like I'm in the same situation as the [Anthony] 'Rumble' [Johnson] fight; fighting for a vacant championship. I get it. Trust me, I do want to walk in there as the champion because I get pay-per-view points, and as a financial incentive, it's very important for me to be the champ.
"But mentally, I almost feel like I'm fighting for a vacant title again, and I can deal with that, because I will feel better once I win and I get the belt strapped around me again. It's just me, I can't change who I am. I am who I am because of that, because of that mentality."
This weekend, Cormier has a chance at redemption. The UFC light heavyweight champion meets contender Volkan Oezdemir in the co-main event of UFC 220 in Boston on Saturday. Due to the nature of his rapid rising through the ranks, Oezdemir is something of a dark horse. While Cormier is more than confident in his own ability to win the fight, he understands that a win on Saturday is likely the only thing to wash away the bad feelings of last July.
Because of that, he knows he has to treat Oezdemir as a legitimate threat.
"There's a bit of a sense of urgency right now," Cormier said. "I'm kinda like, man, July 29th sucked so bad, I feel like I lost my entire world, you know? Because I had built so long to that fight. And then I think to myself, but if I don't get prepared, I would feel a lot worse going through what I went through in July, and then going through that again on Jan. 20.. because it's easy to look at a guy like Volkan Oezdemir and go 'I'm going to smash this dude' — but you've got to prepare yourself.
"I've got to prepare myself for all of the things that he brings to the table, all of the confidence that he has in his hands, all of the preparation, because this is their fourth fight. This is their fourth time, Henri Hooft, Greg Jones, all those guys. Their fourth chance: 'Rumble' one, 'Rumble' two when I got hurt, and then the actual time that 'Rumble' and I fought in Buffalo. This is time No. 4 for them to try to beat me, so they've got a lot of insight into what I do."
Comments
comments