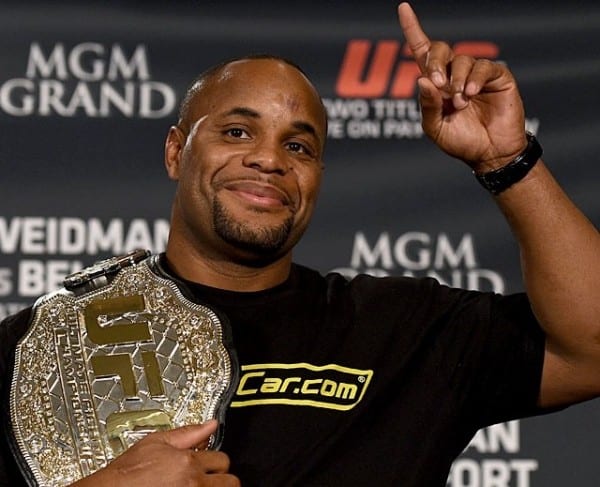 Daniel Cormier has had an interesting up and down in recent times.
In July, Cormier met his most famous rival Jon Jones at UFC 214, only to come up short after Jones landed a thudding head kick in the third round. It was a brutal defeat. Cormier had invested so much of his identity into the competition with Jones, that to lose both bouts they shared was nothing but failure.
Then, Jones failed a drugs test for the steroid Turinabol, and Cormier was handed back his UFC light heavyweight championship. For a while, Cormier didn't know how to feel. He'd just lost the belt in a decisive fight, so to claim he was the undisputed champion felt disingenuous.
However, while Cormier might have felt awkward about labelling himself as the champion, fans — who have been notoriously hard on Cormier — didn't feel the same. Instead, whether it be down to disappointment with Jones or appreciation at Cormier's competitive spirit, the fans took to Cormier in a way they hadn't done so prior.
It's certainly something Cormier notices.
"In a situation where.. I lost to Jones in January by decision in a good fight," Cormier said, speaking on MMAFighting's The MMA Hour. "Then in this one I got knocked out, actually I got finished for the first time in my career, and more people feel as though I'm validated as champion now than I was then. Which is crazy. Because the result was so clear in July, and more people now are respectful of what I've done than before, and I think maybe that's because when you start adding performance enhancers into the equation.
"It makes things look a little bit different. And I feel like maybe that's why people are more respectful. People are much more willing to accept that I've done everything the right way. I've just fought with what I've been given."
Cormier might have been accused of being fixated on Jones in the past, even when his rival had been rendered unable to compete through out-of-cage controversies. This time around though, Cormier knows that Jones' future is out of his hands, and so will just continue his own line of work until he knows better, starting with Volkan Oezdemir in Boston at UFC 220.
"Until this suspension is lifted the or whatever the case may be, the focus continues to be on Volkan and whoever comes after that," Cormier said. "So, I don't know whats happening with Jon Jones. … Whatever. It's time to do my own thing."
Speaking of Oezdemir, with Cormier still feeling unable to consider himself as a champion with the Jones loss still fresh in his mind, the champion fully intends on getting a win against the man known as 'No Time'.
"I was there on July 29 in Anaheim, and it was going on so good until it wasn't anymore," Cormier said. "And I lost the fight. That has not changed. So I need to go out here against Volkan Oezdemir and beat this guy to feel like myself again. I feel like there is a stench on me. It's almost like I got pissed on by a skunk, and I just stink everywhere I go until I can get a really, really good bath."
Comments
comments