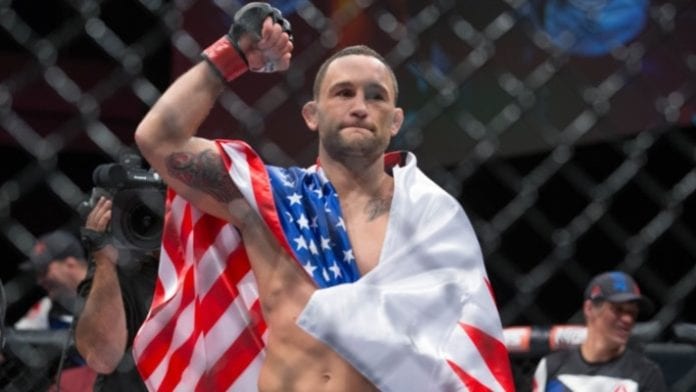 Frankie Edgar may have missed out on his clash with Max Holloway at UFC 218, but he has no intentions of missing out again.
The former UFC lightweight champion was scheduled to face Holloway in Detroit, Michigan on December 2, but was forced to pull out of the competition after suffering an injury to his orbital bone in training just a couple of weeks from fight night.
Now, Edgar is back in the gym and training, and after seeing Cub Swanson defeated by Brian Ortega last weekend feels confident he'll be next in line for Holloway's featherweight title.
"We're just waiting to see what's next," Edgar said, speaking on The MMA Hour. "I think March or April sounds good, so one of those dates I imagine we'll set it up."
It's an even more imposing proposition than it was prior to UFC 218. Holloway ended up facing Jose Aldo at the event, and demolished a man considered to be the greatest featherweight in history. Now, Edgar faces a champion who looks set to dominate the 145-pound division for the immediate future — although you won't hear Edgar fearing the challenge.
"I think he's all that he's cracked up to be and the fact that he's so young and keeps getting better every fight is scary almost," Edgar said. "But that also motivates me. I still feel like I'm at the top of my game. Max is the future, but I'm still here, I'm the present and I want to get this title shot and get what's mine and become a two-weight champion. That's been my goal since I came down to 145."
–
Comments
comments