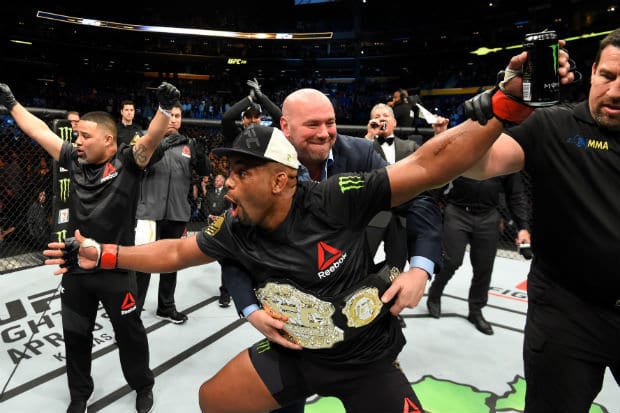 After coming in second throughout so much of his early athletic career, the latter part of Daniel Cormier's voyage through amateur and professional sports has been incredibly prolific.
Earlier this year, Cormier became the latest member of the UFC's double-champ club when he dethroned Stipe Miocic to add the UFC's heavyweight title to the light heavyweight championship he already held and his record-breaking year has been recognised by the world's leading sports publication, ESPN.
"The universe is crazy," Cormier said to ESPN of the awards. "Just as you start to accept, 'Maybe I'm the guy that was second' … The reality is my career was good enough to reach unbelievable heights … But I was never the guy that stood at the very top. I didn't get that Olympic champion moment. I was at a point where, 'This has to be good enough for me.'
"When I came into this year, I was like, 'I'm just going to live this thing for what it is: a chance to compete and see where the chips lie.'"
And, as it turned out, his competitive instinct added him to the (very) short list of the UFC's most successful fighters across different weight divisions. Cormier fought three times in 2018, earning a trio of stoppage wins against Volkan Oezdemir, Miocic and, most recently, Derrick Lewis. All three were world title bouts.
Cormier will turn 40 in March and remains steadfast to his statement that he will retire before that date, leaving the clock very much ticking for a potential third bout with Jon Jones. Though, with Brock Lesnar Cormier's likely next opponent Cormier says that the pursuit of Jones is no longer his prime motivator.
"Everything wasn't pointing to, 'I have to get back to the Jones fight and make that right,'" Cormier said.
"I took on too much pressure in that rivalry, trying to put him in place. The reality is, he put himself in place with the indiscretions and bad things he did. Even after Jones was reinstated [in October], it wasn't about him. It was my story. It's crazy how everything changes so fast."
Comments
comments