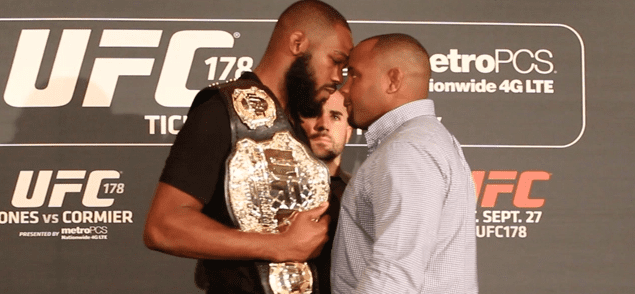 If you thought UFC light heavyweight champion Daniel Cormier's disdain for Jon Jones had dissipated with time, you are wrong.
With confirmation emerging that Jones will be ringside on Saturday night at UFC 210, Cormier has responded with a combination of both disbelief and mild irritation.
After stating that he felt Jones' attendance was an act of desperation, today at the open workouts, Cormier was asked whether or not he expected Jones to enter the cage for a staredown with whomever emerges victorious on Saturday night. Needless to say, he wouldn't recommend it.
"He better not come into my cage after I win," Cormier said. "He's not welcome in there. He's still suspended. When he's eligible to fight then he can walk into the cage, but if he dares to step foot in that Octagon.. something bad will happen.
"This is where he's from, I get it. But if it were me and I were in his situation, I wouldn't be here."
That 'situation' that Cormier refers to is Jones' current serving of a suspension for failing a drugs test issued by USADA ahead of a bout with Cormier at UFC 200. Jones was given a years suspension for banned substances, but he garnered particular attention for revealing that the substances actually got into his system after he took an off-brand sexual aid.
While USADA carried out tests and appeared to confirm Jones' story, they still felt that he remained culpable for ingesting the substances and not remaining control for what was in his system. But while USADA may believe Jones' sex aid story, Cormier is less convinced.
"I know what you did," Cormier said. "We all know what you did. 27-years old and you need sex pills? You got a real issue. I'm 38 and I don't have that problem."
Comments
comments