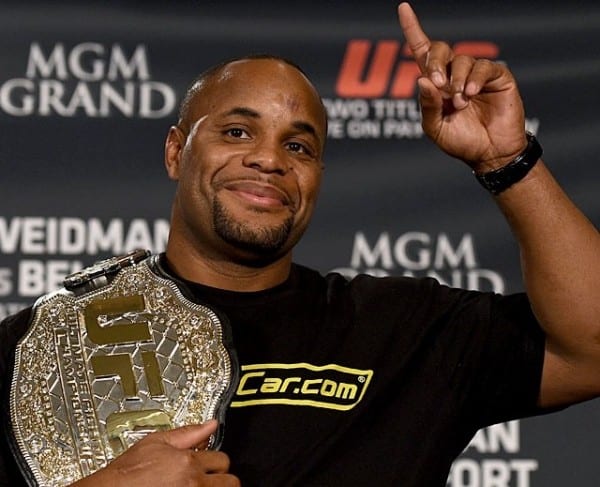 The light heavyweight division is in something of a weird spot.
While the four men at the top of the heap are undeniably talented and would be up there with the best to ever fight at 205-pounds, outside that the contenders are few and far between — it's all something that hasn't been lost on the champion Daniel Cormier.
"It's a very top-heavy our division," Daniel Cormier said, speaking with MMAjunkie Radio. "You have Anthony and myself and Jones when he gets back (from suspension) and Gustafsson, but I just don't know if the rest of those guys can actually compete. For me, it's not even about those guys. I've got my next three fights mapped out: I've got to fight Anthony Johnson, I've got to fight and beat Jon Jones and then I have to fight and beat Jon Jones again. Then I will have accomplished everything I could have ever accomplished in the sport of mixed martial arts."
Currently, Jones isn't listed in the UFC rankings, due to him currently serving a suspension for ingesting banned substances last year. But with his return, he'll likely finding himself back around the top of the pile.
Outside the names Cormier mentioned, the rest of the faces in the top ten at 205 include Glover Teixeira, Jimi Manuwa and Mauricio 'Shogun' Rua who, while have careers to be exceptionally proud of, would likely be the considerable underdog should they be matched against any of the top four.
According to Cormier however, he doesn't mind the nature of the division, as any fight he's booked in against the top tier is a huge test of his abilities.
"Even though it's top heavy, my desire is to fight those guys in that very top part of the division. I don't really have the desire to fight those other guys. I want to fight Jones. I want to fight 'Rumble.' I would fight Gustafsson, but would prefer not to because that guy really did take me behind the woodshed last time. I would prefer not to fight Gustafsson, if I'm going to be honest."
And it's just as well he feels this way, because in Anthony Johnson, whom he faces at UFC 210 on April 8, Cormier knows he has his hands full.
"The guy is good. He's a terror," he said. "He's got crazy power, he's so fast and he's driven. He's a driven guy that wants to be the champion, so I knew the rest of those guys weren't going to beat him."
Comments
comments