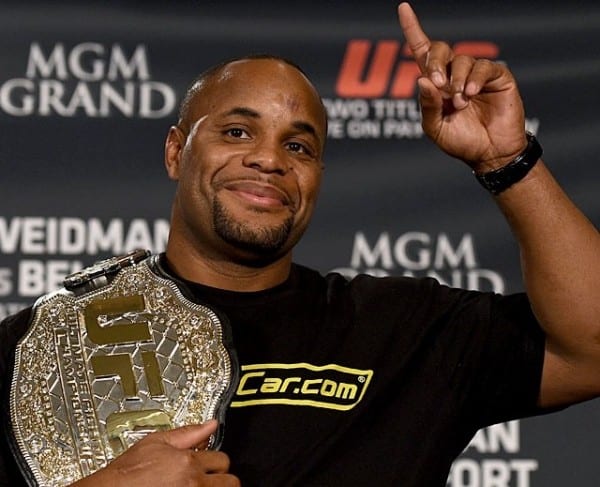 The clock is ticking down on Daniel Cormier's mixed martial arts career. The UFC light heavyweight champion revealed earlier this week that he had no intention of fighting past his 40th birthday, which comes in March next year.
As such, there is something of an unofficial countdown taking place, with 419 days until Cormier's self-imposed retirement date. Naturally, now that it's out there as a potential exiting point, questions are coming thick and fast as to whether or not Cormier is happy with the legacy he'll be leaving behind.
Particularly without a victory over his fiercest rival, Jon Jones.
"Yes, [my career] will feel complete [with beating Jones]," Cormier said, speaking to Fox Sports. "You know, I've gotten to the point now where my career is about me. It's not about anybody else anymore. It's about me, and what I have done, what I want to continue to do as I move forward and how I want to be remembered when I'm gone.
"If people ignore everything that I have done outside of Jon Jones, then it never was going to change. It's about me and no one else right now."
The possibility of a third fight with Jones is, of course, unknown. The former champion is currently undergoing an adjudication process with USADA after a steroid (Turinabol) was found in his system before a fight with Cormier at UFC 214.
With that blockbuster ruled out, some are suggesting that Cormier should attempt to return to heavyweight (where he went undefeated for years) and aim to win a second title in a second division, cementing his position in history.
Cormier has previously stated that with his teammate Cain Velasquez returning to action, he has no intention of getting in the way, but even should Velasquez lose in his title endeavours, Cormier still won't be going up with the big guys.
"I still wouldn't favour anybody against Cain Velasquez, but obviously I'm a bit biased," Cormier said. "Man you gotta look at those big dudes and know that that's really not my weight class. I'm not as big. I know my face looks really fat right now compared to last weekend, but those are heavyweights. Heavyweights, those are the land of the giants. I'm going to steer clear of those boys.
"And if somebody beats Cain Velasquez just know that they're probably going to beat me too, because I can't beat Cain."
Daniel Cormier addresses the final 420 days of his career on @UFCTonight…

…is he interesting in a heavyweight title fight?
…is he still pushing for a Jon Jones fight?
…is he going to lose his dressing room to @Twooodley?@DC_MMA has the answers! https://t.co/bXqp8uwYTS

— FOX Sports: UFC (@UFCONFOX) January 25, 2018
–
Comments
comments