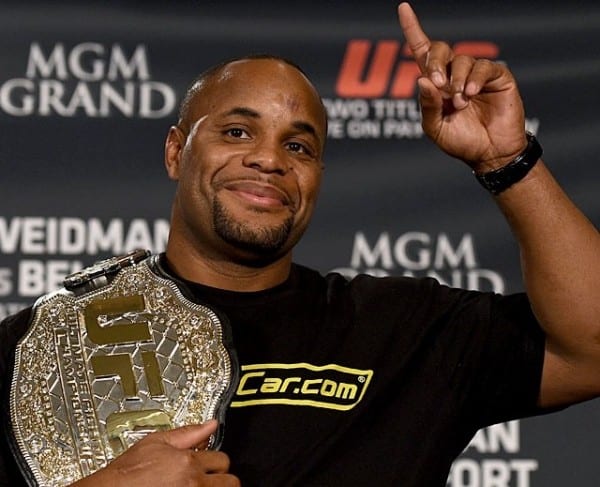 On July 7, Daniel Cormier has an opportunity to concrete his legacy in a way few other mixed martial artists are able.
Cormier — the UFC light heavyweight champion — will be facing Stipe Miocic for the UFC heavyweight title and potentially become the promotion's second ever double champion. While beating Miocic will be no mean feat, particularly with Miocic having just broken the UFC heavyweight title defence record, should Cormier succeed, he'll be passionately celebrated in the history books.
And, of course, that's something Cormier himself is keenly aware of.
"When I think of a fight against Stipe, it's a very tough fight and it's a very difficult mountain for me to climb," Cormier said, speaking on MMAFighting's The MMA Hour. "But the reality was I've always talked about competition and legacy and when you think about legacy, if I'm able to pull this off, there's no denying what I have meant to this sport and what I will leave behind whenever I'm done.
"I win this fight July 7, I'm the greatest fighter of all time. I've done something that was unheard of and that's what I've always chased. I've always chased that. I chased it in the fights with [Jon] Jones because even regardless of the belts, I would always say, 'Once I beat Jones, I will be the greatest fighter of all time.'
"So I believe that once I do this, something that was so crazy that no one even has attempted it, I feel like I'm in the conversation for the best fighter of all time."
There's something huge on the line for Cormier. At present, only four athletes in the history of the UFC have been able to hold titles in two divisions. Randy Couture, BJ Penn, Conor McGregor and Georges St-Pierre are currently the only men to pull off such an achievement, with McGregor being the sole figure to hold both titles at once.
Combine that with the fact that Miocic is seen as one of the greatest heavyweights of all time, and the chance to write history was too big to pass up.
"I'm trying to do something that's unheard of," Cormier said. "I know there's been two-division champions, Randy Couture had the light heavyweight belt and the heavyweight belt, but he didn't do it at the same time. Conor McGregor is the biggest star in mixed martial arts and he held two titles at one time — and I'm about to actually do that too — so he's been on the cover of [UFC video game] two years in a row, next year I go on the cover of EA Sports UFC."
–
Comments
comments