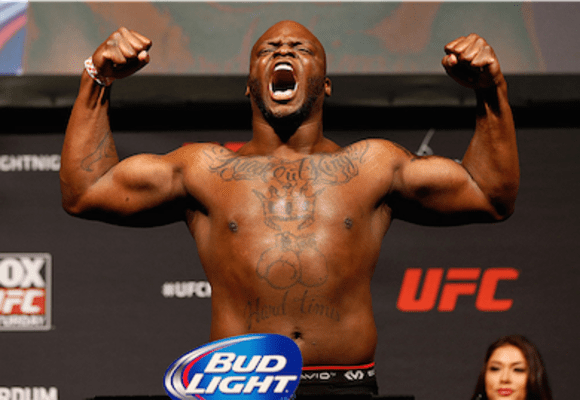 Francis Ngannou may have won his share of fans on the way to a UFC heavyweight title shot, but he didn't make one out of his fellow athlete Derrick Lewis.
The two have had various back and forths over the past year. Both huge heavy hitters, it had seemed as if the duo were on the cusp of meeting in the cage multiple times, until their fortunes differed slightly and Ngannou ended up going on to meet Miocic at UFC 220.
But despite the fact they never actually came to blows, that doesn't mean Lewis wouldn't leap at the chance if it arose — in or out of the cage.
Speaking on the 'Slip n' Dip Podcast' this past weekend, Lewis explained why he doesn't like Ngannou and in typical fashion, he pulled no punches.
"Yeah, I'll fight him on sight you know," Lewis said, speaking on the 'Slip n' Dip Podcast'. "This guy over here, every time somebody ask me a question about him, I say something nice, but every time somebody say something about him, he's like trying to talk down on me saying I'm not on his level, talking about how I'm too slow and this and that.
"I really don't care, but, don't try and talk shit about me every chance you get. He talks shit, but he's never like, 'Oh, I want to fight Derek'. He's always talking down on me, but he doesn't want to fight me."
Lewis hasn't been seen in competition since facing Mark Hunt in June of last year. He was scheduled to face Fabricio Werdum at UFC 216, only for a last minute flare up of an old back injury forced him to withdraw from the fight. Since then, he's been patching up the holes in his game ahead of an eventual return. He is set to face Marcin Tybura on February 18, at UFC Fight Night 126.
Should he come out of that contest with a win, then who knows, perhaps the UFC will finally put him and Ngannou in a cage together. If they do, they're virtually guaranteed an entertaining build up.
"That motherfucker is at least 40," Lewis said of Ngannou. "They say he was homeless so he probably don't even know. Tell me where his birth certificate is at. He's 40 man, juiced up. They say he's younger than me, there's no way he's younger than me."
–
Comments
comments