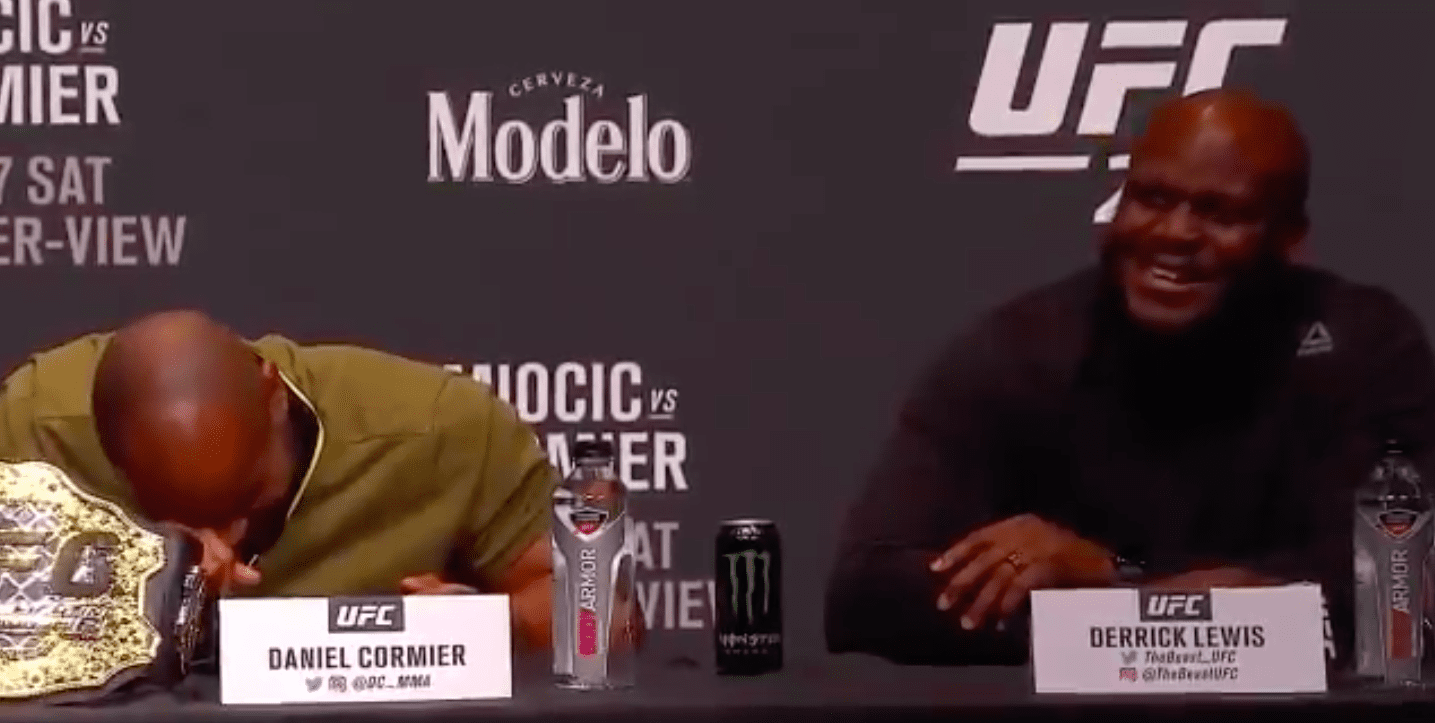 Daniel Cormier isn't too shy about it: he accepted a fight with Derrick Lewis next month because he offered a large amount of money to do so.
Cormier defends his world heavyweight title against Lewis in the main event of UFC 230 on November 3 after the UFC struggled to find a main event worthy of Madison Square Garden. With every other champion busy and no logical interim titles to be created, Cormier was eventually drafted in.
And, according to the man himself, there's two big reasons that affected his decision to accept the offer: the amount of pay and the level of opponent.
"I didn't think I was going to fight on this card, but the deal I got was so good," Cormier said, speaking with ESPN. "There was no way I could say no, honestly. Especially with a guy like Derrick, who is not known for the best cardio. I've got to start fast and hope I can push harder than him, even with a short camp."
Cormier is currently dealing with a hand injury, one he sustained in his win over Stipe Micoic earlier this year. While that would usually keep him from rolling the dice, Cormier still fancies his chances. In fact, he says, there might even be a positive in a shorter training camp to avoid heavy injuries as his career draws to a close.
Cormier has repeatedly said he's ready to walk away from active competition in March of next year, leaving him roughly two fights (including Lewis) left in his career. Assuming he defeats Lewis in New York, Cormier will likely be given an option of two men for whom he can face. Old rival Jon Jones, or money machine Brock Lesnar.
"Counting the Lewis fight, I think I'm down to two fights left," Cormier said. "Maybe this will be a blessing in disguise, the fact that I don't have a crazy, long fight camp to beat myself down. That may prolong it for me, but right now, I think I have this one and maybe one more. I can still fight in March and hit my retirement date. The one opponent that would matter to me most is Jones, because he's beaten me twice.
"The one that would mean more financially would be Lesnar. I think I would always pick the one that means more, but my wife might have something to say about that."
Still, it's time to focus on the task at hand. Lewis comes into UFC 230 off the back of a stunning come from behind win at UFC 229, where he knocked out Alexander Volkov in the very last moments of the third round. And in Cormier's mind, that's the only way Lewis has any success when they fight.
"I would not have accepted a rematch against Stipe Miocic, he's too good under these circumstances," Cormier said. "I'm not saying Derrick isn't good, but Stipe is capable of beating me in different ways. He does different things well. I think in this fight, Derrick has to knock me out to win.
"Usually, if a guy only has one path to victory, I do pretty well. Yes, I will admit the opponent factored into this."
Comments
comments