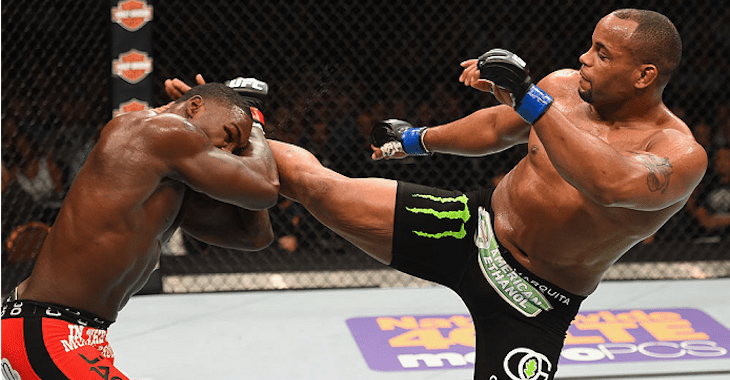 Daniel Cormier's reign atop the UFC's light heavyweight division has been far from straight forward. 
The former Strikeforce Heavyweight Grand Prix winner won the UFC's vacant 205-pound title in May 2015, defeating Anthony Johnson after former champion Jon Jones' transgressions outside of the sport caused the UFC to strip him of the title. Two defenses followed, against Alexander Gustafsson and Johnson again (with a non-title bout against Anderson Silva sandwiched in between) before Cormier once again faced long-time rival Jones in defense of his title.
Cormier was knocked out in the third round of the bout but a subsequent USADA-violation which emerged in the wake of the bout caused the UFC to overturn the result and hand the light heavyweight championship back to Cormier.
The AKA fighter had been assumed to be facing top contender Volkan Oezdemir in his next title bout but a recent charge for aggravated battery has led to doubts that this will take place, leaving Cormier potentially searching for new foil in his next fight.
As Cormier said to the Anik & Florian podcast, as reported by MMAFighting, both Alexander Gustafsson and Ovince St. Preux are deserving of their opportunities.
"Of course, I'd fight any of these guys. It doesn't matter," Cormier said. "This guy's on the longest win streak in the division so he was getting the title shot but if this trouble is gonna keep him out of the opportunity, I'll just go to the next guy. So of course I'd fight Gustafsson and someone told me yesterday that Team Ovince Saint Preux was like, 'We want a title fight because we've got a good winning streak too.' Whoever is winning gets the title shot, that's just the way it is. I don't care who it is."
Of the legal problems facing Oezdemir, Cormier said that he was reserving judgement but added that young fighters must learn to control themselves in their personal lives lest if affect their careers.
"It's tough to be going through this type of thing, especially at this time when you're on the cusp of your biggest moment of your career. I don't know what happened. You've got to not be doing things that are wrong or put yourself in these situations where stuff can go sideways. You've got to try to stay out of those positions. . .
"Maybe it was self-defense but because he is who is is, it's much worse because he has the ability to sleep dudes that are trying to hit him. You never know what's happening but even these run-ins, they're really unneeded, especially when you're a young guy as Volkan is and you're on the cusp of something so big for the first time in your career."
Comments
comments