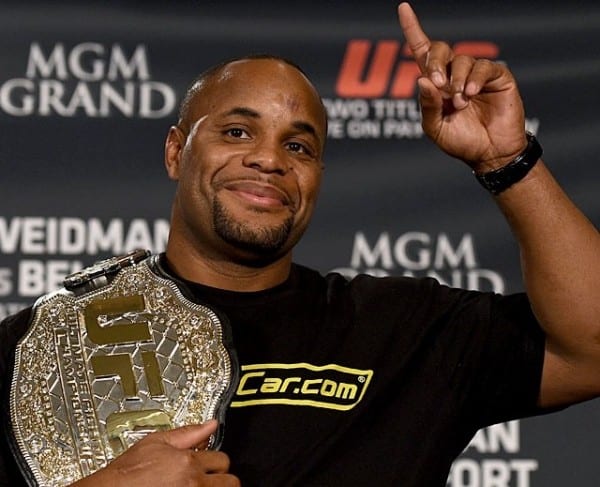 While it may be over shone by Anthony Johnson's decision to retire post-fight, UFC light heavyweight champion Daniel Cormier had one of the best performances of his career to retain his title at UFC 210.
While there will be some queries as to Johnson's tactics — the contender attempted to out wrestle Cormier, instead of firing his usual round one blitz — Cormier managed to hold the challengers offence off to win via rear-naked choke in the second round.
"I couldn't believe he was forcing me to wrestle," Cormier said post-fight. "We were okay taking the first round, he hit me with the head kick, but it was cool. Rumble has that big burst and then he kind of panics.
"I hope he is not walking away from this sport," Cormier said. "He has so much to offer the sport of mixed martial arts."
But, with Johnson in the rear view, and with boos echoing around the arena, Cormier began firing off barbs at various targets, including Jimi Manuwa, Jon Jones and the UFC fans.
"I told Jimi to stop pretending he wants to fight me," Cormier said. "He don't want none of this. He knows. You can't beat me, Jimi. Jimi, you could come in here with your bare knuckles and punch me. I will eat that. I will eat that. You can't beat me, Jimi. Jimi, you can't beat me, you know it. Stop lying to yourself. I like Corey Anderson, but you just beat Corey Anderson, sit down young man."
And as for Jones? His long time nemesis?
"Don't talk to me about a guy who is ineligible," Cormier said, as Jones watched on. "When you get your ass, when you get your shit together and you're ready to fight, I'm here waiting for you young man. You know it. You wasted two years. … As a fighter, I respect him. We just don't see eye to eye. Locking me in here with him, that's a favour."
.@dc_mma @Anthony_Rumble What you saying @JonnyBones?! 😆 pic.twitter.com/1PyCR9YkTi

— #UFC210 (@btsportufc) April 9, 2017
—
Comments
comments