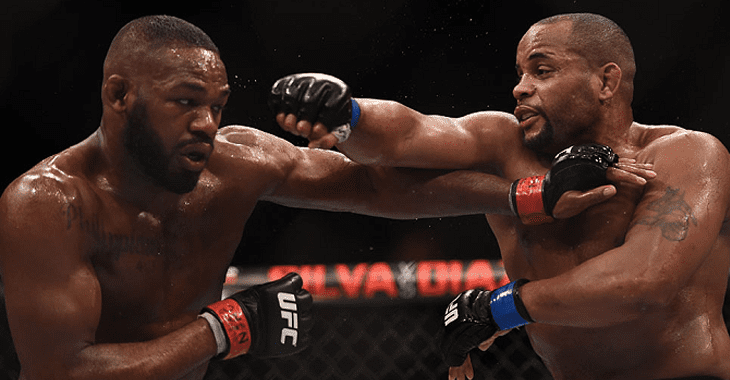 The rivalry between Daniel Cormier and Jon Jones will forever be considered one of the most intense, competitive and ill-tempered in mixed martial arts history. Despite that, you won't hear Cormier gloating at his old nemesis being in trouble once again.
Jones was arrested last week for an aggravated DWI and negligent use of a firearm after being pulled over in Albuquerque. It's the latest in a long line of infamous legal issues the light heavyweight champion has been involved in and a sad reminder that for as much talent as he has, his penchant for getting in trouble will always be a part of his story.
For Cormier, hearing the news was far from joy-inducing, and instead, Cormier says he felt more pity for Jones than anything else.
"I didn't celebrate it. I didn't celebrate the kid getting in trouble again," Cormier said, speaking on the Ariel Helwani MMA Show. "I don't think that you should celebrate or dance on someone's grave in their darkest moments. Because you don't do that to people, man. Ultimately, are you a human being or does this complication overtake everything? I didn't find any joy in seeing that kid — he's now a man at 32-years old, I used to call him a kid when he was 23 — at 32-years old, I did not enjoy seeing that man in that situation again.
"It's just bad. It's not just him. He's got daughters. He's got a wife or fiancé or a girlfriend. He's got so many things at home that are affected by this and affected by his actions and behaviour. But again, it won't change until something or the people around him change."
Indeed, while Cormier is far from forgiving Jones after their multiple clashes over the years, the former heavyweight and light heavyweight champ says in these moments where Jones is put in cuffs again, he hates the situation more than he hates Jones.
"I think about my rivalry with Jones — and I'm not some black power guy — but as much as I dislike him in terms of a person, I hate him in a lot of ways, right?" Cormier said. "… But I hate seeing a young black athlete in that situation even more than my disdain for him. I don't like seeing that because it's almost what people expect, and I don't want that to be the way it is for these young athletes."
Comments
comments