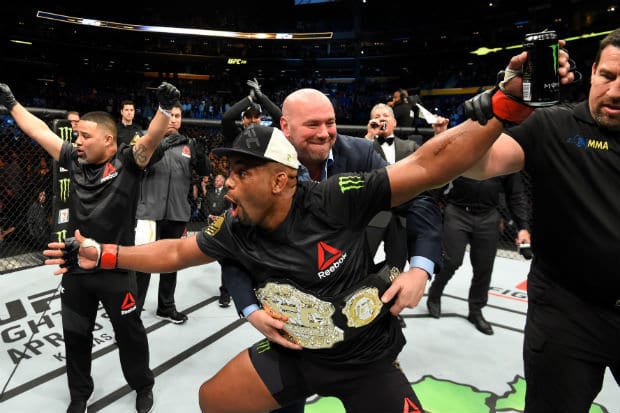 While it seems like a foregone conclusion that, should a Brock Lesnar fight not materialise, Daniel Cormier will face rival Jon Jones in the new year, the UFC heavyweight champion evidently doesn't see things the same way.
All eyes switched to Cormier following Jones' win and reclaiming of the UFC light heavyweight title last Saturday, with most expecting the feud to re-ignite with both men still harbouring a bitter dislike for the other. But, judging by Cormier's words on Monday's episode of MMAFighting's The MMA Hour, the 39-year old isn't jumping into the expected role.
"If he doesn't fight, then I'll fight Stipe Miocic," Cormier said, speaking on the MMA Hour. "I talked to the boss (Dana White) the other day and he's talking to me about fights and Brock Lesnar and Jon Jones and everybody, and I said, 'If Lesnar doesn't go, Stipe has to be first. He deserves it, and I've said it from the beginning. If it ain't Brock, I want to fight Stipe Miocic and give him what's rightfully his, a rematch for this title.' He's going to get beat again, but at least he'll get a chance to fight for that belt again."
That being said, Cormier's previous self-decided retirement date of his 40th birthday in March seems to be less concrete than it was prior to last weekend.
"I've had some things injury-wise that are really kinda holding me back right now," Cormier said. "I would prefer to be getting ready to train right now and fight, but there are a couple things that have happened that I can't really get going like I want to.
"I became the heavyweight champion a few months ago, it's not like I'm slowing down," he said. "So we'll see what it is. I really do still intend to be done with this thing really soon. It's just a personal decision that I made with my family, and we'll see what happens."
Comments
comments