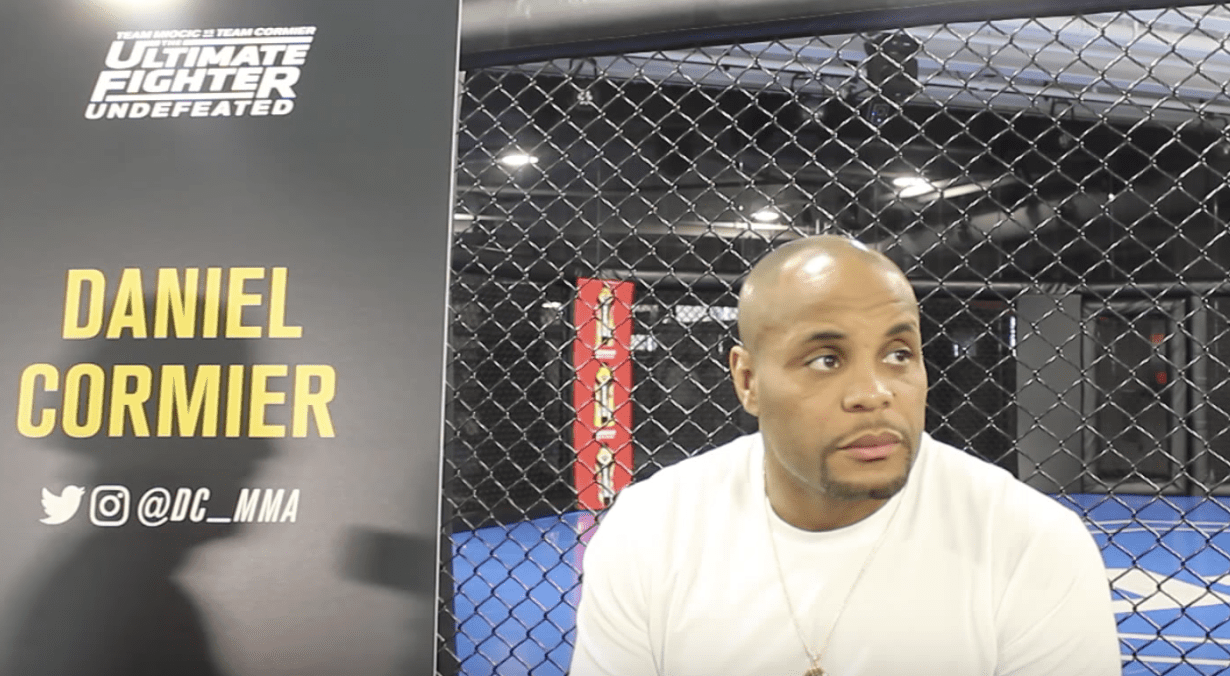 One only had to see the expression which came across his face at the UFC 25th anniversary press conference recently to gauge Daniel Cormier's interest levels in a match-up with former UFC heavyweight champion Brock Lesnar.
Cormier, who is a lifelong fan of professional wrestling, erupted into a smile when it was hinted by Dana White that the winner of his upcoming heavyweight title bout with champion Stipe Miocic could be the person to welcome Lesnar back to the Octagon if, as rumoured, he makes his UFC return later this year.
While Cormier, who is the promotion's light heavyweight champion, will have to be successful in his title bid against Miocic in order for the Lesnar bout to happen, the 39-year-old former Olympian is giddy at the prospect at potentially facing one of the biggest names in the sport.
"That thing never happens unless I get past Stipe, but just hearing out loud was like, oh my goodness," Cormier said as quoted by MMA Fighting.
With bouts with perennial rival Jon Jones falling apart for a variety of reasons on more than one occasion, the most lucrative bout available to Cormier at the moment without question involves Lesnar being his foil and with Cormier saying he will be retired from the sport a year from now, he says he sees this as the ideal opportunity for one more gargantuan payday before he hangs up his gloves.
"Hey, I know that when I fight Jon Jones, I make a lot of money. I know that if I was to ever fight a Brock Lesnar, I'm going to make even more money than I've ever made in entire life. And ultimately, championships and money is why we do this. I don't care for all the other stuff. I want to get paid. I'm almost 40, the door's about to close on me, so why not ride out into the sunset with a massive payday? Truckloads of money. Back up Brinks truck to Gilroy, California if you fight Brock Lesnar, I'm telling you.
"He told me last time, right? When that thing broke that he was fighting at UFC 200, I said, 'Big Brock, is it Christmas morning in the Cormier household?' He goes, 'Merry Christmas, DC. You're welcome.' That's what he told me. He knows that the money's coming. When he's on your card or if you're fighting against him, he knows that you're getting paid."
Even with retirement on the horizon, Cormier sees room for two further bouts on his career ledger post-Miocic — the heavyweight title tilt with Lesnar and then one further bout in the 205-pound division. All going well, Cormier says he will relinquish two belts upon the date of his retirement and one of those will leave room, he says, for his friend and training partner Cain Velasquez.
"There are fights down there [205-pounds] for me, and I would hope that Cain would come back and fight at heavyweight and become the champ again.
"I would [step aside] again. Again. I would do it again, as I did the first time. … I'm not fighting Cain Velasquez. I would never, ever fight Cain Velasquez. Nope, nope, I would never do it. So yeah, if it meant giving up the belt, that's what I would do."
Comments
comments