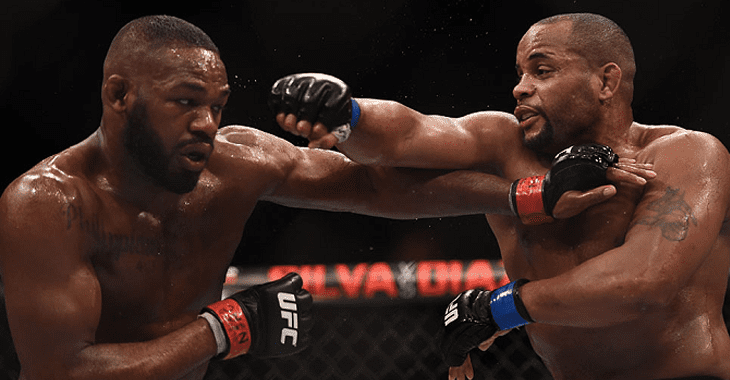 Daniel Cormier might still have plenty of disdain for his rival Jon Jones, but that's not going to get him picking Israel Adesanya over him should they end up clashing.
Jones and Adesanya have gone back and forth over the last year with increasing intensity, with the middleweight champion stating he'll happily move up to 205-pounds to meet Jones once his own division is taken care of.
In Jones' eyes, that idea signals nerves from Adesanya, and has publicly declared he'll look up a division himself to find challenges at heavyweight once he's dealt with his next contender Dominick Reyes.
For Cormier, it's not that Jones wants to head up to heavyweight — a move he's been discussing for a number of years — but rather fan opinion will eventually force his hand.
"I think he'll have to," Cormier said, speaking with BT Sports (transcribed by BodylockMMA). "He'll have to escape his comfort zone a little bit. It's scary for him. It's scary for a lot of guys to change weight classes.
"There's this air of invincibility with Jones and for him to go up and take these chances, I imagine is very scary. I don't know if he really wants to do that but I think he will at some point."
Should Jones remain at light heavyweight for the foreseeable future and meet Adesanya, however, despite the current momentum of the lighter man, Cormier finds it difficult to see that night not going Jones' way.
"I don't know if [Adesanya] beats Jon Jones," Cormier said. "I really don't. Obviously, you guys know my feelings towards him [Jones] but he's good, man. I think it's going to take a heavyweight. It will be one of those big, big guys that shuts the lights out. I just don't know if those guys can beat Jones over 25 minutes.
"He's a good fighter, he has so many weapons. Look at me, I feel I'm one of the greatest fighters of all time and he beat me twice. That says a lot about who he is as a competitor. Can Israel fight him? Yes. Especially if Jon takes the wrong approach to fighting Izzy. When you fight Adesanya, you better go get some takedowns because if you stand with him, he's dangerous for anybody."
Comments
comments