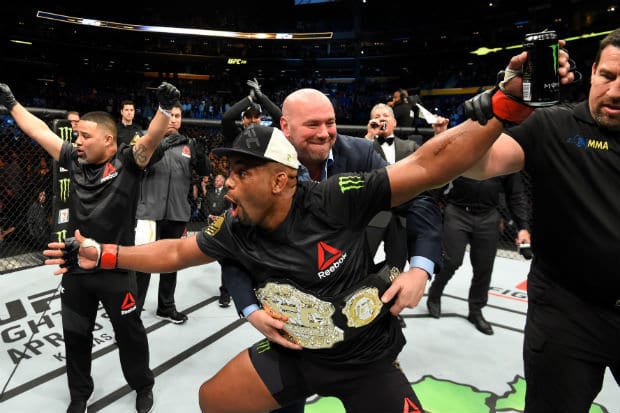 Daniel Cormier and Stipe Miocic get on. You could even say they're friends. So when UFC president Dana White suggested the pair fight each other later this year, it presented an awkward decision. 
Luckily for fans, both men understand the nature of the business, and how competition can manifest itself in uncomfortable situations. That being said, it didn't stop Cormier from picking up the phone and speaking with Miocic before he'd made a judgement on wether or not to accept the fight.
"I did speak with him. I spoke with Stipe, I called Stipe," Cormier said, speaking with FloCombat.com. "Obviously, you know, great guy, I got to spend some time with him, fantastic champion, just a pillar of his community. I can't say enough good things about Stipe Miocic.
"With that being said, I told Stipe 'for $500,000, I'm not fighting Stipe Miocic'. I threw out a big[ger] number and said 'for that number, I'm fighting Stipe Miocic'. He goes, 'I fucking love you'. That's what he said.
"I said for the right numbers we need to do this. His wife is in the back going, 'Yes, DC!'. It's a deal where this one is not about ill will. This one is not about rivalry. This one is not about any of that stuff. This is a competition between two of the heaviest guys who are champions to see who walks this Earth with that title. That's it."
All that being said, Cormier did make sure to note that it's not all about the money. When Dana White called him to suggest the contest, it wasn't the dollar bills he used to convince the UFC light heavyweight champion.
"History. The guy doesn't only sell you on financial incentives, he sells you on history," Cormier said. "He has worked with me for a number of years now so he knows the types of things that make me perk up.
"'History, Daniel, history. Epic. Something that no one has ever done. Sure, 170 [pounds] and 185, 155 and 145, yes, but no one has legitimately tried as the light heavyweight champ to go fight the heavyweight champ — this is the battle for the baddest man on the planet.'"
Comments
comments