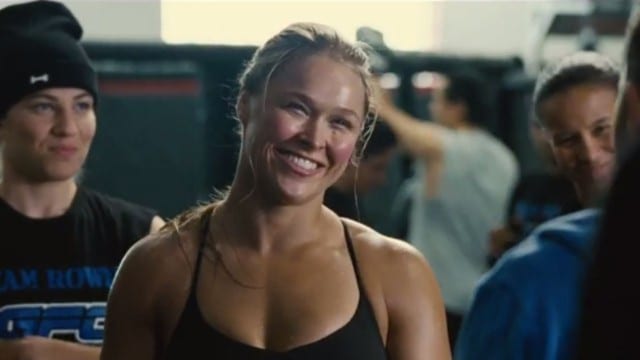 When Ronda Rousey emerged from backstage at the WWE Royal Rumble, she did so with as big a smile on her face as fans had seen in years.
The former UFC women's bantamweight champion — and general pioneer of the UFC women's scene — has had a rough go of things over the last while. Ever since losing to Holly Holm in 2015, Rousey's world seems to have changed drastically. Previously seen as a world beater with no equal, the head kick that sent her to the canvas made that image evaporate, and a brutal loss to Amanda Nunes in December of 2016 merely compounded the change.
Now, as she finds herself in WWE — involved with her love of professional wrestling — there appears to be a swell of goodwill towards the ex-champion. Even coming from old rivals from her fighting days.
For years, Cris Cyborg vs. Ronda Rousey was set to be the biggest fight in mixed martial arts history. The two were so equally dominant, that a meeting between them would have likely broken records at the box office. Combine that with an apparent genuine dislike, and the hypothetical contest had money written all over it.
Still, with Rousey out of the fight game, and even with all those harsh words, Cyborg has nothing but pleasant wishes for Rousey these days.
"I believe that she will be happy in WWE, and it's completely different from the reality of MMA," Cyborg said, speaking with MMAFighting. "For an example, wins and losses are decided before the shows."
One thing that has emerged with Rousey's debut, however, is her continuing reluctance to discuss her losses in mixed martial arts. Speaking with ESPN reporter Ramona Shelburne in an interview, Rousey was asked about her defeats, only for her to explain she'd rather not discuss them.
"I think I'd just rather not talk about that right now," Rousey said to Shelburne. "Winning the Olympics was the only thing I cared about as a kid, and I tried and I tried, and winning the world championships like my mum did — and I got to the finals of the world championships and I lost. And I went to two Olympics and I lost. And it's still hard. To realise your childhood dreams are not coming true."
But even though there is potentially room for criticism, Cyborg believes it's actually normal for fighters to struggle with past downfalls.
"I think it's normal," Cyborg said. "In reality, we can only talk about things that we already overcame in our minds. She hasn't overcome her MMA losses yet, even in another stage of her career. Sometimes people need professional help to get over it."
Comments
comments