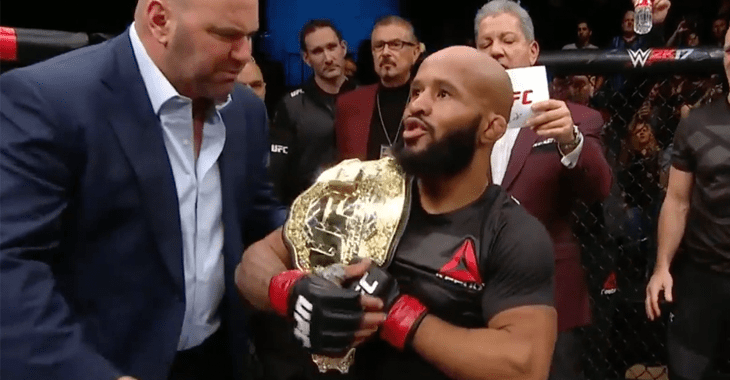 It took a rather public dispute with their number one pound for pound fighter to achieve it but the UFC's flyweight division is arguably the most talked about of all the UFC's current weight classes.
Current 125-pound champion, and the world's number one pound-for-pound fighter, Demetrious Johnson has engaged in a war of words with the company he represents after saying that he is feeling strong-armed into accepting a bout with TJ Dillashaw instead of the de facto number one contender in Ray Borg.
His concerns stem, according to the fighter, no so much from the matchmaking but more so the tactics being employed to manipulate his actions, such as his allegation that Dana White suggested he would fold the entire flyweight division if Johnson didn't accept the Dillashaw bout.
Daniel Cormier, another UFC title holder and member of the P4P elite, voiced his support for Johnson on Wednesday's episode of UFC Tonight on Fox Sports (as reported by MMAFighting), saying that if they want Johnson to acquiesce to their demands they must compensate him monetarily.
"UFC, if you want Demetrious Johnson to fight T.J. Dillashaw, give him the money," Cormier said. "Pay him a million dollars and say 'that's your fight.' I know it's a lot for a 125-pounder, but the guy's the No. 1 pound-for-pound fighter in the world. Pay him the money, and then let him go fight. … Pay him as the No. 1 fighter in the world for once."
Johnson is one of the most successful fighters ever to step inside the octagon, though his announced pay doesn't come close to some of the UFC's top earners.
"I think the responsibility for everything can be shared between Demetrious and the UFC," Cormier continued. "The UFC really doesn't understand how to market him, because they have to get creative. He's smaller. He's not the biggest guy. He's dominant. Even when Anderson Silva was the guy running through his division, his points weren't very high, so they have to get creative. I don't know if they've gotten creative. But I do believe DJ has done his part.
"Honestly as an African-American, you have to market people differently," Cormier said. "There is a different demographic, and I don't know if DJ really fits neatly into any certain one. Because just his family and everything, everything combined, you gotta get tricky marketing these small guys, especially an African-American guy.
"So the UFC doesn't really know how to do that yet with him. But, you have to have 'it'. Ronda Rousey happened organically. It just has to connect. It hasn't connected for DJ, UFC has to take responsibility because they don't know how to market him properly yet."
Comments
comments