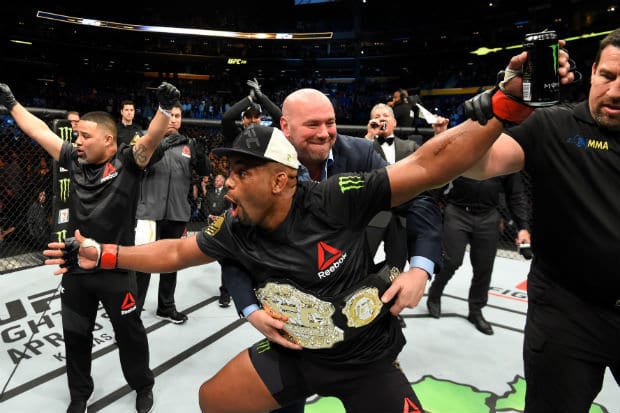 It seems Daniel Cormier and Jon Jones aren't meeting again as soon as we thought.
At least, that's the impression given from the UFC light heavyweight champion this morning, as he and British contender Jimi Manuwa traded verbal blows on social media. In amongst the insults about who could beat whom and in what fashion, Cormier acknowledged that he had accepted a fight with Manuwa for an unspecified date.
@dc_mma take the fight Daniel.

— JIMI MANUWA (@POSTERBOYJM) April 17, 2017
I did. I'll smash u any day bum! U will get embarrassed. U and I both know it. Now u get what u asked for. U won't last a round. https://t.co/0YqPfOvhtj

— Daniel Cormier (@dc_mma) April 17, 2017
Interestingly, while most had speculated that the returning Jon Jones would leap right into title contention against his old rival, Cormier appeared to reveal that Jones had instead decided to take a warm up fight upon his return, stating that "Hones needs to get his sea legs back."
I'm not trying to catch anything. Let's go! I wanna fight you! Jones needs to get his sea legs back. Where's the contract. This light work https://t.co/GIiBKUTCmN

— Daniel Cormier (@dc_mma) April 17, 2017
The conflict between Manuwa and Cormier started after the champion retained his title at UFC 210 two weeks ago. After defeating Anthony 'Rumble' Johnson, Cormier went to talk with Manuwa at ringside, before taking time to insult him in his post-fight interview.
"I told Jimi to stop pretending he wants to fight me," Cormier said. "He don't want none of this. He knows. You can't beat me, Jimi. Jimi, you could come in here with your bare knuckles and punch me. I will eat that. I will eat that. You can't beat me, Jimi. Jimi, you can't beat me, you know it. Stop lying to yourself. I like Corey Anderson, but you just beat Corey Anderson, sit down young man."
—
Comments
comments