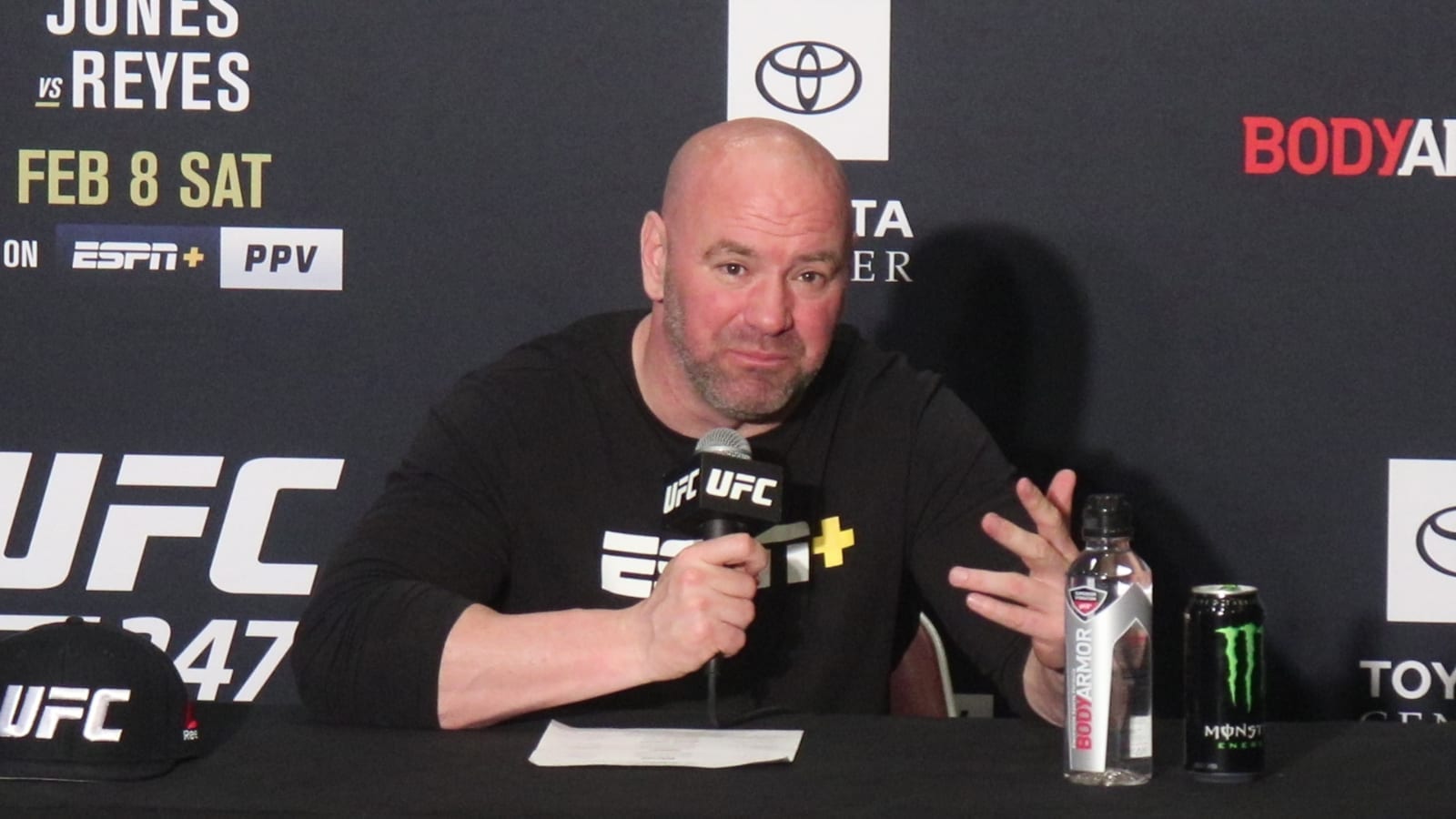 UFC president Dana White's resolve to put on events despite the coronavirus pandemic has earnt him equal parts praise and criticism from different angles of the sporting world.
While some are vocal with their appreciation for a man determined to provide entertainment, others point to the pain and disarray around the world to suggest that, now is a time fights should take a backstep as we continue to struggle with Covid-19.
In White's eyes, it's simply time to get back to work. Similar, he says, to WWE's chairman Vince McMahon.
"I'm ready to get back. I think a lot of other people are ready to get back and, and I think right now what we need is — first of all, everybody's afraid to be first. Realistically, the only guy[s] right now who isn't afraid is me and Vince McMahon," White said, speaking with ESPN.
"I mean, Vince McMahon hasn't skipped a beat. But what he did was, he found solutions. He found ways, get rid of the crowd. And I'm sure he's doing everything in his power too, to make sure that his guys are safe. Everybody else is afraid to be first. Right now we need leadership.
"We need people that are going to go out and find solutions. Hiding in your house is not an answer. I get it. We have to do it. We followed everything that the CDC has said, right? But at what point did you start to get back to normal? You keep people in their houses for too long with no entertainment, people are going to start losing their minds. And we need to start figuring out solutions and that's what we're doing.
"What we're going to do this, we're going to keep everybody safe. We're going to pull this thing off. We're gonna make it happen."
For White, it seems the coronavirus pandemic simply cannot force the world to stop turning, and if there is a way to put on events and work safely, then companies need to start looking at ways to do so.
"We need sports to happen. It needs to happen. We need to figure out the solutions. How do you make this safe and let it go on?" White said. "That's what the whole world needs to do. What our kid's never going to go back to school? I mean, I'm hearing the governor of California came out yesterday and said, NFL will not start in September in California. What does that mean for school?
"There's just so many different things that trickled down. You know, this is sad and we're going way off base here, but there's a lot of kids in cities that only eat when they go to school. What's happening to those people? What's happening to all the people that have lost their jobs? What are the answers? How do we fix this and how do we get back to normal?
"In my own little world. I'm just trying to figure that out for me. My kids have been in the house and haven't been out and haven't been hanging out with their friends or doing any of that stuff. We've stayed inside like we're supposed to, other than coming back and forth to the office for things that I need. We've done everything that, that the CDC and the government has asked us to do."
All in all, White says what the world needs now in the face of its current crisis is people who can prove there are ways to live safely, and that staying inside for an indeterminate amount of time isn't the answer.
"It's never been about the money for me. I believe that, you know, at some point we have to move forward and then the answer isn't, 'Oh, we need to stay in our house until September'. That's not a possibility. I just don't think that's a reality that they can.. that's not going to happen," White said.
"People aren't going to stay in the house until September. So how do we figure out solutions and maybe in my own little world here, if I can make this happen and pull this off and everybody is safe, I already did it [at UFC Brasilia], Vince has been doing it, and we're going to do it again on April 18th then maybe other leagues will start looking at it and going, well, how do we do this too?"
Comments
comments