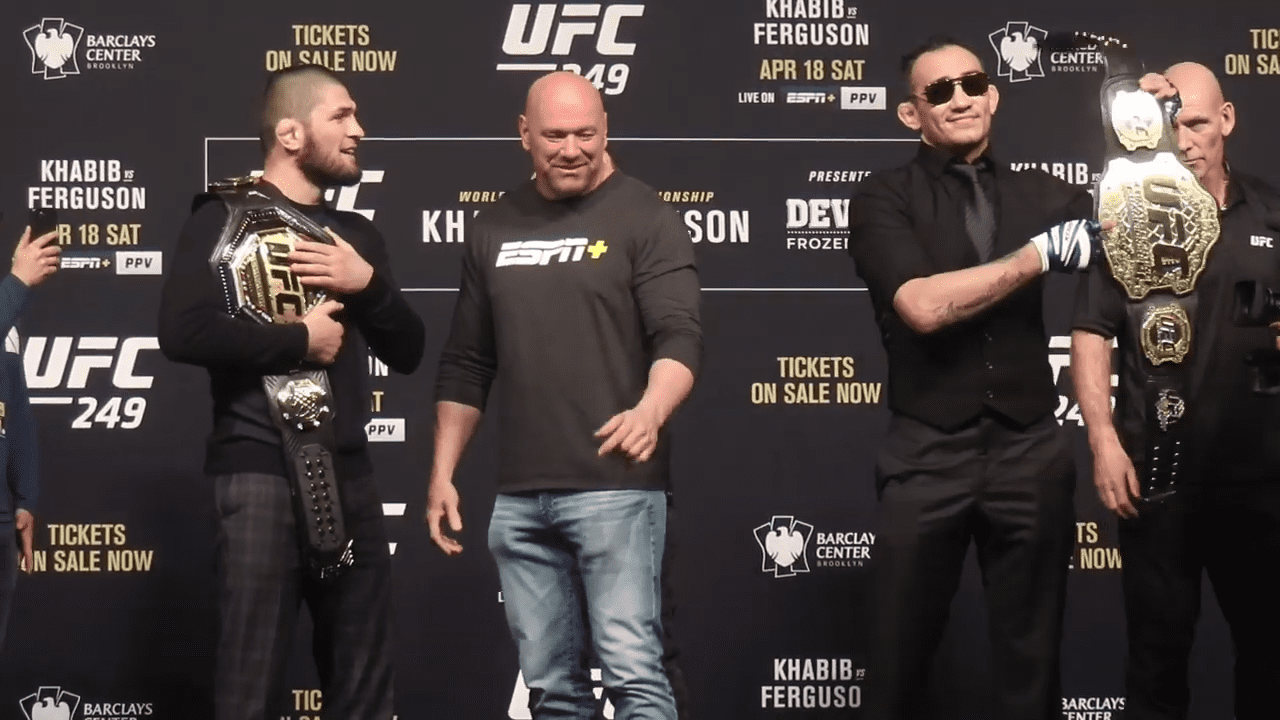 Dana White says he has found a venue to host Khabib Nurmagomedov vs. Tony Ferguson, and says it will be a closed-door event.
The two lightweights were scheduled to meet in Brooklyn, New York on April 18, but the coronavirus pandemic forced New York State to cancel all live gatherings for the foreseeable future.
Despite that, the UFC president has been unwavering in his intention of having the fight happen on that date. Apparently, he's found a way to do so.
"I do [know where it's happening]," White said, speaking with Kevin Iole on Instagram Live. "But I'm not ready to tell you yet. I know lots of things. … The fight will happen on that date, on pay-per-view on ESPN+ and the whole world will get to watch it."
White went on to confirm the event will take place behind closed doors, much like the UFC's most recent show UFC Brasilia.
White has received criticism for his steadfast ambition of holding fights as soon as it's viable to do so — criticism he's argued strongly against — but maintains his holding UFC 249 will be as safe as possible and be as fair to fighters as he can make it.
"Everybody who is going to be involved in this thing is going to be because they want to be, not because they have to be or they have to do anything," White said. "There's not going to be any fans there, this thing's going to be a closed-event. And believe me, We didn't just start thinking about safety when the coronavirus popped up. Health and safety, these are things that normal businesses that are out there right now don't necessarily have to think about on a daily basis. Healthy and safety is something we've been doing long before the coronavirus and we'll be doing it long after the coronavirus is gone. This is just normal shit for us."
Comments
comments