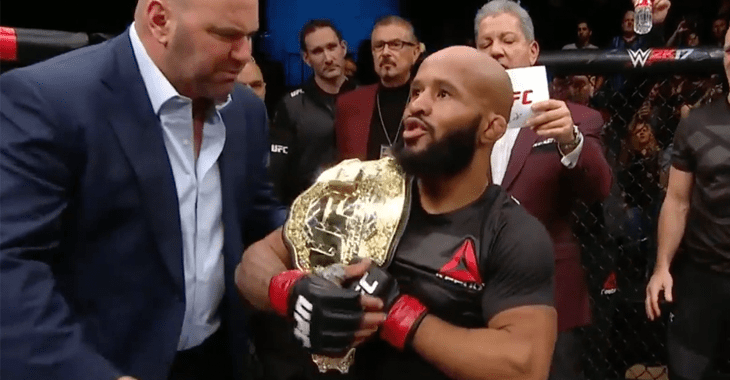 In the new world of the UFC, Dana White isn't finding it as easy to book fights as it used to be, and he's starting to get a little bit tired of it. Case in point, UFC flyweight champion Demetrious Johnson's current reluctance to face former bantamweight champion T.J. Dillashaw. 
With Cody Garbrandt having to withdraw from his scheduled bout with Dillashaw, Dillashaw has begun campaigning heavily to move down a weight class and meet Johnson as the flyweight king attempts to break the record for most title defences in the UFC (currently possessed by Anderson Silva). Surprisingly, Johnson isn't interested, and White isn't impressed.
"I have a fight with Demetrious Johnson where he's on his way to break the record – Anderson Silva's record for most title defenses," White said, speaking on the UFC Unfiltered podcast. "And T.J. Dillashaw can't fight Cody 'No Love' because Cody screwed up his back, and Cody isn't going to be back for a while. [Dillashaw's] like, 'I can make this weight, and I'm going to stop him from breaking that record'.
"T.J. is going to go down to 125 to fight D.J. to stop him from breaking the record — D.J. doesn't want to fight him. … This is the first fight ever in D.J.'s history that he actually gets pay-per-view. He gets pay-per-view on this one, and this is the first real fight that people will care about and want to see on pay-per-view, and he is refusing to fight T.J. Dillashaw.
"It's insanity."
Meanwhile, Johnson is arguing that Dillashaw should win a fight at flyweight, a division he's never fought in, to prove he's a contender at 125, and in the meantime Ray Borg should get the title shot. According to White though Borg — something of an up and comer — pales in comparison as a contender when put against Dillashaw.
"What's he ranked – like five or six?" White said. "The guy's ranked five or six. T.J. Dillashaw is a former world champion, coming down from the weight class above who's next in line for the title shot there. Absolutely he's next in line, if that's what he wants.
"Unfortunately for D.J., you don't make the fights around here. I do. So that's the fight we're pushing for."
Comments
comments