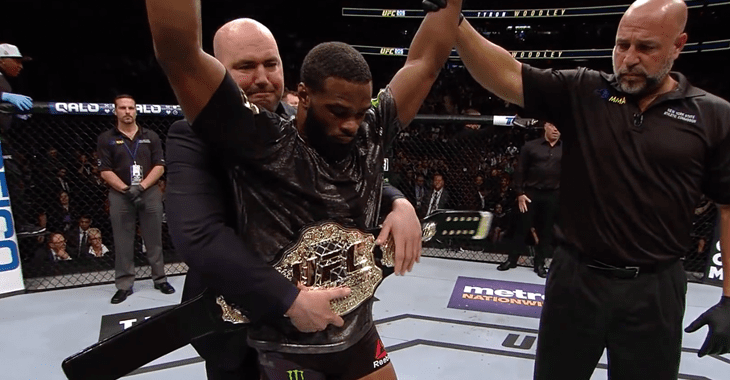 Anyone familiar with UFC president Dana White will be aware that he isn't averse to speaking his mind and that's exactly what he did when asked by reporter Megan Olivi to break down the UFC 209 main event between Tyron Woodley and Stephen Thompson.
For the second time in a little over three months Woodley and Thompson fought through all five rounds but in contrast to their first meeting, their 'Fight of the Night' draw at UFC 205 in New York last November, it was a much more tentative affair.
Woodley appeared cautious throughout, displaying an unwillingness to cede any opportunities on the feet to the man he calls the best counter fighter in the division. Woodley eventually burst into life in the fight's final seconds to clearly win the final frame but the consensus opinion (on social media at least) was that Thompson's more accurate engagements earlier in the fight had been enough to claim three of the previous four rounds.
In the end, though, it was Woodley who was awarded the majority decision.
UFC president Dana White, asked by reporter Megan Olivi to analyse the main event, didn't mince his words.
"Woodley did absolutely nothing," White said. "Until the last round. The first fight? If it had been a draw — okay. But if Tyron Woodley won the first fight, you wouldn't go 'Oh my god, this is crazy'. But tonight? Tonight's a whole other story."
As much as he clearly disagreed with the decision, White struck a more conciliatory tone when speaking to Fox Sports after the event.
"Tyron is the champ. He won tonight," White said. "Me, the fans, everybody else, we're not the judges. The judges called him the winner tonight, so he's the winner."
As for White's comments, Woodley said that he didn't take offence.
That's why he's not the judge. He's the president of the UFC," Woodley said of White. "He told me the same thing in the back. I took no offense to it. Sometimes you watch fights, you watch with emotion and if you know Dana his fight style is the Diego Sanchez, these dudes that are beating each other up, that's his stuff, that's his style. It's not always the most attractive fight to see the guys that are playing a chess match.
"No, it didn't offend me at all. It was a close fight."
Comments
comments