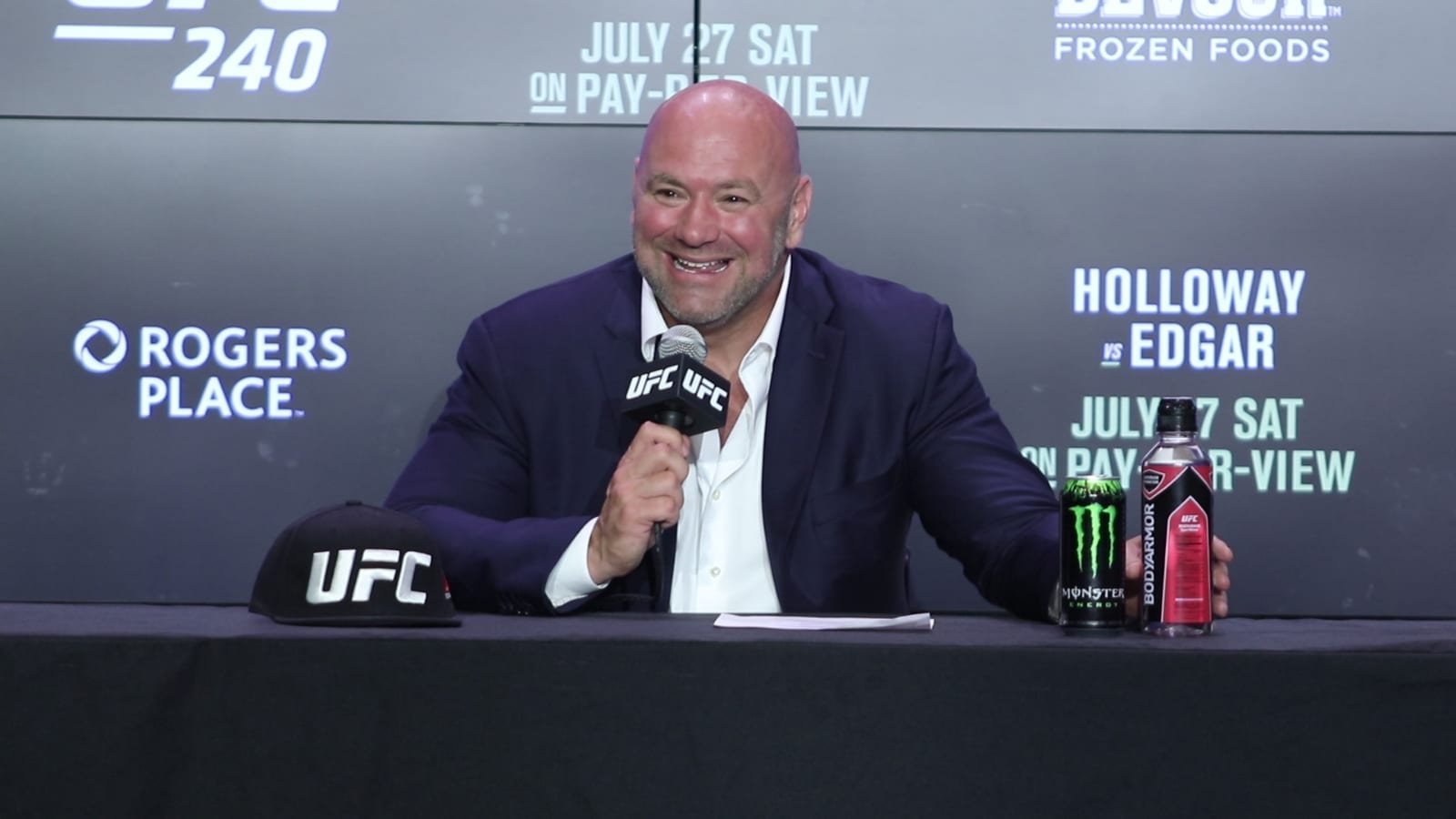 UFC president Dana White says May 9 will not just kickstart the UFC's return to live events, but will do so with a vengeance.
On May 9, UFC 249 will be headlined by Tony Ferguson vs. Justin Gaethje for the interim lightweight title, with an abundance of big-name bouts as support. From that moment on, White says, it's back to business with the promotion.
"We're having fights May 9, then another card May 13, then May 16. We're doing Saturday, Wednesday, Saturday. We're gonna knock out three shows in a week," White said, speaking on an Instagram Live session.
The UFC then put out a press release to confirm the plans, and also cemented earlier reports that the bouts would take place in Jacksonville, Florida at the VyStar Veterans Memorial Arena.
"I can't wait to deliver some great fights for the fans," White said in the release. "I want to give a big thanks to Mayor Curry, VyStar Veterans Memorial Arena and Florida State Boxing Commission Executive Director Patrick Cunningham for getting this thing done and giving us a venue to put on these incredible cards, as well our media partners including ESPN and ESPN+, for bringing it to fans. My team is ready to go and the fighters are excited to get back in there with these back-to-back events."
Bouts have not been announced for the May 13 and May 16 cards, but it does appear those will be hosted at the same venue.
"Florida's State Commission and the Department of Business and Professional Regulation have been in continued coordination with the Ultimate Fighting Championship (UFC) to identify options for bringing the UFC to Florida for upcoming events," said Florida State Boxing Commission Executive Director, Patrick Cunningham.
"Florida welcomes the UFC to the Sunshine State, and our commission stands ready to sanction the events to be held on May 9, 13 and 16. Health and safety protocols will be in place to ensure the safety and wellbeing of all individuals who are helping to make these events possible. With this triple date feature of UFC events coming in May, Florida is continuing to build a strong collaboration with UFC that sets the foundation for more opportunities that we hope UFC will choose to host in our state in the months to come."
Comments
comments