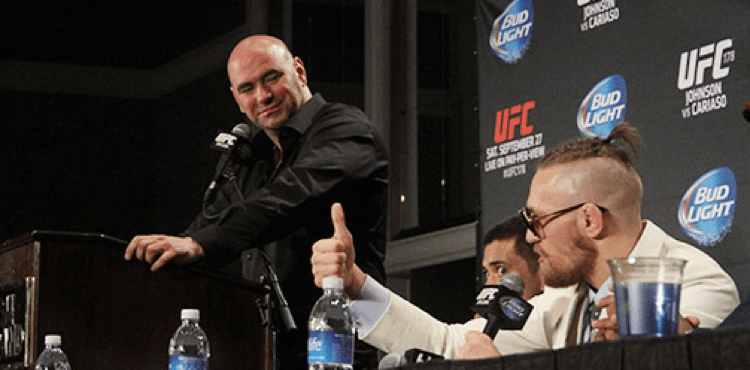 It's already been branded the biggest fight in mixed martial arts history, but according to Dana White, Conor McGregor vs. Khabib Nurmagomedov is now showing the analytics to prove it.
The UFC president appeared on ESPN earlier today, hours before McGregor and Nurmagomedov are set to meet in New York City, and revealed the event already looks to be smashing the UFC pay-per-view record numbers.
"It's massive," White said. "There has been a lot of talk about this thing doing 2 million buys. We're trending right now at 2.5 million buys so that's how big this fight is. The biggest fight we'd ever done was Diaz vs. McGregor at almost 1.6 million pay-per-view buys. Then we did the Floyd Mayweather fight. And now this by far is the biggest fight and one of the biggest fights ever in combat sports to be honest with you."
Today marks the first time McGregor appears alongside a UFC logo since 2016. While it's been something of a tumultuous few months for the Irishman and the promotion, White can't hide his happiness at seeing McGregor back in 4 ounce gloves.
"Conor works very well with us. We work well with him. There's certain things you have to deal with Conor McGregor but he's worth it," White said. "For example, the New York thing. The fact he thought he could come here and have this beef with Khabib in the middle of New York City and the way that it was done that was obviously the craziest thing. Normal, typical stuff for Conor is showing up an hour late for press conferences."
Do you want to head to Las Vegas to watch UFC 229? You can purchase event tickets here, as well as your flights right here.
Comments
comments