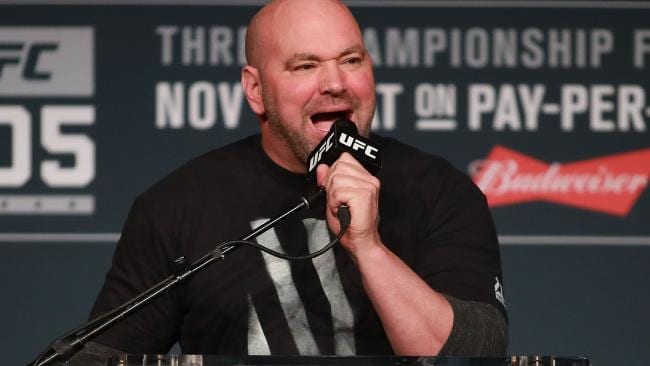 Most people would agree that it's hard work to manage and keep happy a roster of around 500 'alpha' personalities, and so perhaps there's no wonder UFC president Dana White can find himself the target of criticism every so often.
Not everyone would agree that it makes sense to criticise back though — but not everyone is Dana.
Speaking at UFC 211's post-fight press conference, White almost went out of his way to bring up former middleweight champion Luke Rockhold, who recently got himself in the headlines when he called for his fellow middleweights to 'protest' the UFC's decision to give Georges St-Pierre a title fight and hold up the division.
"If they're not putting an interim title on the line, or if they're not making [Michael] Bisping fight a contender, I'm not fighting anybody," Rockhold said on MMAFighting's The MMA Hour last week. "And so should the rest of the division too. What's the point? Without me, Mousasi, Yoel, and Whittaker — I think everyone should just stand their ground, and say fuck you. Put a title on the line or else, fuck, you don't even have a division."
Well done @ufc . Let's get back to work.

— Luke Rockhold (@LukeRockhold) May 11, 2017
But, even with the UFC supposedly cancelling the Bisping/St-Pierre fight (something which got an approving tweet from Rockhold), White made sure to point out that Rockhold isn't exactly in a position to demand anything at present.
"There's a lot of guys talking about 'deserve'.. nobody deserves anything," White said. "You've got to earn it here. You've got Rockhold screaming right now 'I deserve this'. You just got knocked out in the first round. You've got to come back and earn it.
"The guy just got knocked out in the first round by Michael Bisping and he thinks he deserves this and he deserves that. You earn it. You want to come back and you want to fight for the title? Get back in here and earn it. That's it.
"Nobody here deserves anything. You earn it," White said. "You want the next shot at the title. You come out and you earn it. Just because you're ranked No. 2, 3, 1, or whatever, things don't line up that way all the time."
Comments
comments