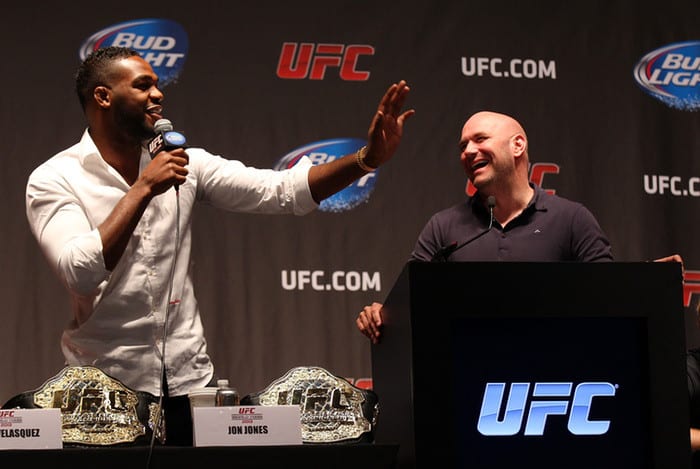 Not so long ago, Jon Jones was almost unanimously agreed upon as the greatest fighter to have competed in mixed martial arts. Now, there is a very large asterisk beside that particular accomplishment.
For the third successive fight Jon Jones was stripped of a UFC title, this time after a third round finish of Daniel Cormier at UFC 214 in the summer. Following the bout Jones tested positive for Turinabol, an anabolic-androgenic steroid, and the title that he won from Cormier was swiftly returned to the former champion.
Add to that, Jones was stripped of the interim light heavyweight title he won against Ovince St. Preux for another positive steroid test. Prior to that, Jones was forced to relinquish the undisputed light heavyweight title following a violation of the UFC Athlete Code of Conduct Policy after a road traffic accident in 2015.
As pronounced as Jones' downfall appears to have been, UFC president Dana White has offered an explanation as to why the 30-year-old has been unable to stay out of trouble.
"He'd also go down in history as probably the greatest ever and if nothing ever happened he'd probably be fighting at heavyweight right now and who knows what could have happened?" White said in an interview with Dan Le Batard.
"I'm in a business where when the fame happens and the money – you have to understand the crazy type of money that comes into the fight business instantly. Even in the NFL, they come in at a certain level and if they become great, they have the opportunity to make millions.
"Jon Jones came in and just started making millions of dollars immediately and he was, like, 24 years old. And you can go back to interviews of me saying, 'That's great, he's talented enough to win the belt. Can he handle the pressure and all the stuff that goes along with being a world champion? With being famous? With being rich?' And that question got answered."
Comments
comments