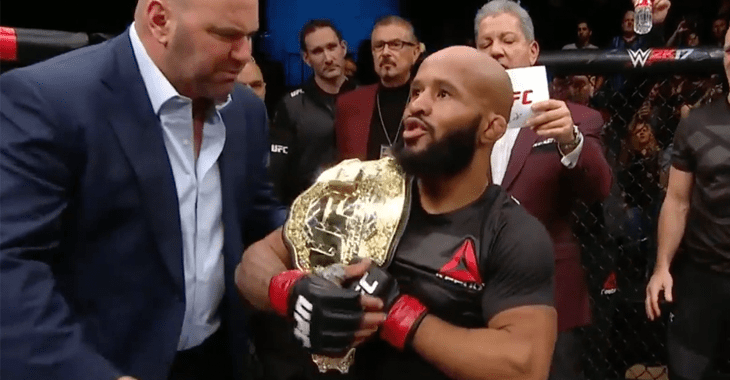 Demetrious Johnson's reign as the UFC flyweight king has been strange.
While he's dominated nearly every contender that's come to take his throne, it still feels like there have been murmurs of discontent with 'Mighty Mouse' and his time at the top of the division.
Some say the level of competition hasn't been good enough. Others suggest his fighting style doesn't make for interesting viewing. A few think he should seek out tougher challenges at other weight classes. Last night, none of those mattered.
With what must be one of the most stunning finishes in UFC history, Johnson defeated Ray Borg to mark his eleventh title defence — breaking Anderson Silva's record. So stunning was the move (a suplex into an armbar), that there were no detractors to be found.
<div style="width: 100%; height: 0px; position: relative; padding-bottom: 56.250%;"><iframe src="https://streamable.com/s/1uuzz/jkwmhv" frameborder="0″ width="100%" height="100%" allowfullscreen style="width: 100%; height: 100%; position: absolute;"></iframe></div>
According to UFC president Dana White, it's the victory that could turn the tide when it comes to fan's appreciation for Johnson.
"Demetrious is the best, man," White said at the post-fight press conference. He broke Anderson Silva's record and did it in spectacular fashion. … I felt like tonight, the crowd was chanting his name, and I think people are coming around.
"That's the thing. Sometimes it takes longer for some people. Crazy to think, but people didn't love Chuck Liddell at one time either. They didn't hate him; they just didn't care. And then Chuck became a massive superstar for us. And Anderson Silva … he kicked Vitor (Belfort) in the face and exploded."
So is he the best to ever step foot in the UFC cage?
"Definitely," White said. "He's the man. He broke Anderson Silva's record, and it almost seems like in that last round he knew he was going to do it and he knew how he was going to do it. It was pretty impressive."
Comments
comments