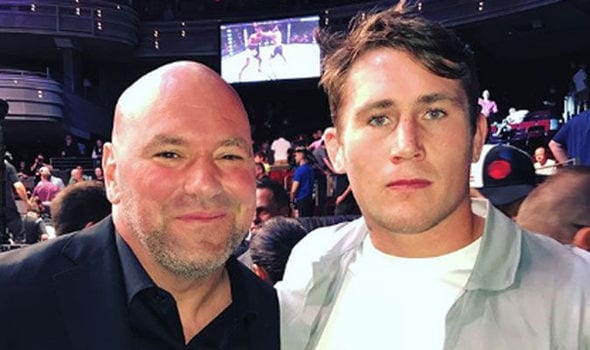 When Darren Till's fight with Kelvin Gastelum was announced, there were two main takeaways.
Firstly, it's a great contest between two studs. Secondly, it's a surprising turn of events considering Till's coming in on the back of two losses, and had already been touted as a man pushed too hard by UFC president Dana White.
According to White, he's aware of the sudden contrast in saying Till's facing too hard competition and then being booked in a contest with a man who very nearly won the 185-pound title last time he fought.
However, White says, Till is a hard man to say no to.
"It's the fight he wants," White said, speaking to reporters after the Contender Series on Tuesday night. "We did [try to talk him out of it]. Yes, we did. [He said], 'That's the fight I want.'
"We went to him and said, 'You sure this is the fight you want?' He's moving up. 'You sure the Gastelum fight?', 'That's the fight I want.' So.. love it."
Earlier this month, prior to the fight's announcement, Till explained his rational for wanting Gastelum, pointing to an online poll as proof it was a fan friendly bout.
"I've called out Gastelum. I only called him out 'cos he done a poll on Twitter about who people think he should fight, and my name got called. The votes were for me," Till said, speaking on his Instagram.
"If that's the fight to make, that's the fight to make. So we'll see where we go with that. That's what I'm ready for, and obviously be a big dream fighting in Madison Square Garden. Let's fucking do this. I'm fucking ready. Let's go."
Comments
comments