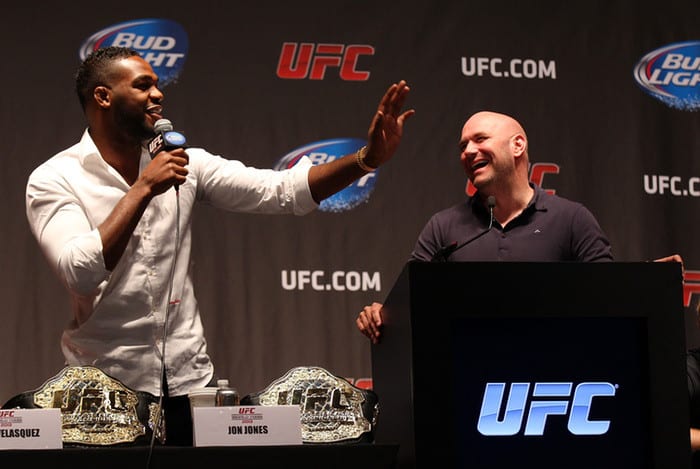 As numerous figures in the fight game have discovered over the years, Dana White isn't exactly someone that you want to get on the bad side of. 
Last summer, Jon Jones was notified of a potential USADA violation just days out from the UFC 200 main event against Daniel Cormier. At the time, the card was being billed as the biggest in the UFC's history and Jones' falling out was a significant blow at its summit. White scrambled to find a replacement for Jones, convincing an out of shape Anderson Silva to fill the gap in the card opposite DC but as popular and dangerous a fighter as Silva is, the loss of the much-hyped main event was a huge blow to the card and company alike.
At the time, White told the media that he would never allow Jones to headline a UFC card again. While that stance has obviously relaxed somewhat, that doesn't mean that the relationship between White and the top light heavyweight of all time has been entirely mended.
Far from it, actually.
Speaking with ESPN, White stated that he hasn't had a conversation with Jones since the fallout of the UFC 200 incident.
"Jon Jones and I still haven't talked since the last time he pulled out of UFC 200," White said. "Because I wasn't happy with him and what happened with him falling out of UFC 200. I feel like we've been there for the guy every time he's had a problem, and for him to do that at UFC 200, I was not happy.
"But we don't have to talk for him to come back and do what he's going to try and do on Saturday night. We don't have to talk. I'm not mad at him any more like I was before. We'll see how this thing plays out. He doesn't show up for this one it's going to be a whole other ball game, but I'm cool with Jon Jones now."
At 22-1, Jones has one of the most impressive record in MMA history particularly when you consider the caliber of opposition he has faced in the UFC. Jones' sole defeat, a controversial disqualification for 12-6 elbows against Matt Hamill in 2009, is the only blemish on a near perfect record (in a fight he was dominating) but White says that it was a refereeing error which cost Jones his unbeaten record.
"Jon Jones has had the potential to be the greatest of all time, this guy, he's still never lost a fight. If you look at his record, there's a 1 there but that was because of a ref that shouldn't have even been reffing, a guy that completely screwed up Jon Jones' record. So this is Jon Jones' chance to come back and stay undefeated."
Jones challenges Daniel Cormier for the UFC light heavyweight title at UFC 214 next weekend.
then number one contender for Daniel Cormier's 205-pound title was notified of the possibility of a USADA violation just days in advance of the UFC 200 main event.
Comments
comments