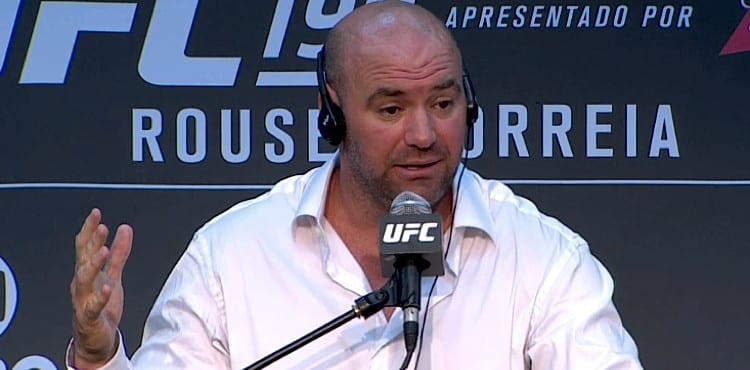 Last year's sale of the UFC to talent agency WME-IMG was one of the biggest and most indelible bullet points in the promotion's near 25-year history.
The sale of the UFC to the media conglomerate, said to be for a sum in the region of $4.2 billion, is the most expensive sports transaction in history but, as Dana White said to Megan Olivi on a new episode of The Exchange, there were two other bidders — one of whom offered a fee closer to $5 billion.
"Let me be honest with you, when we were doing this deal there were two groups that came in for more money than Ari [Emanuel]. There was one [offer] for $5 billion", White said.
In the end the decision was made to accept the WME-IMG offer, in part because of its experience in the industry and also because of how impressed White and the Ferttita brothers were with its head, Ari Emanuel.
"There's people who I believe add value. One of the million things I respect about the Fertitta's, they weren't just going to let this thing go for the money. They were going to make sure it went to somebody who could actually take it and bring it to the next level.
Ari is one of these guys, he's got huge balls, he's very smart, and he has laid out a really great plan for the sport. The vision that Ari has for it right now, I am on board and I love it."
There have been several changes to the UFC backroom staff since the sale became official last year. Upon the change of ownership, Dana White agreed to a five-year deal to stay in place as president but suggested that he may remain in the UFC hot seat far longer than that.
"Me and Ari could not be in a better place. I could not be a bigger believer in what we're going to do over the next five years and what these guys bring to the table. I'm in. I love this. I'm not going anywhere."
.
Comments
comments