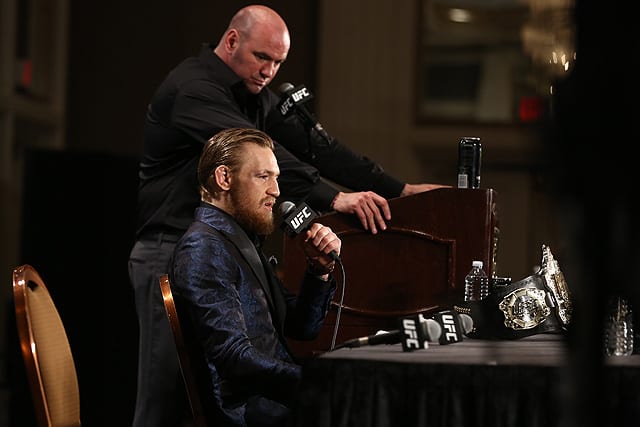 When Jorge Masvidal knocked out Ben Askren in just a number of seconds at UFC 239, it felt like the welterweight was shot into rarified air in terms of fighter star power.
With the clip of his flying knee going viral, along with celebrity interactions on twitter, Masvidal came across like he'd left the Octagon that night as one of the biggest names on the UFC roster. Instantly, the American wasted little time in attempting to cash in on that rise in attention, calling for either a title shot or a big bucks contest with Conor McGregor.
When UFC president Dana White was asked about the idea by TMZ, however, he instantly dismissed it, saying Masvidal was too big at 170-pounds for McGregor to compete with. Apparently McGregor, who fought at welterweight for his brace of contests with Nate Diaz, heard and was none too impressed.
"Yeah, Masvidal is too big for him, man. I think Masvidal is too big, Conor disagrees. Conor was not happy that I said Masvidal was too big for him," White said with a smile at the UFC 240 post-fight press conference.
White revealed he'd spoken with the Irishman last week as they plan a McGregor return for later this year or early next, and said McGregor made sure to let him know White's comments irked him.
"[He said] 'that pisses me off that you say he's too big for me'. I'm telling you guys, I've said it a million times, and I'll say it again, this guy will fight anybody," White said. "And I don't care if he's pissed off about it or not, I think Masvidal is too big for Conor. So, if we ever get to that point, I'm sure it's something that Conor and I will fight about."
–
Comments
comments