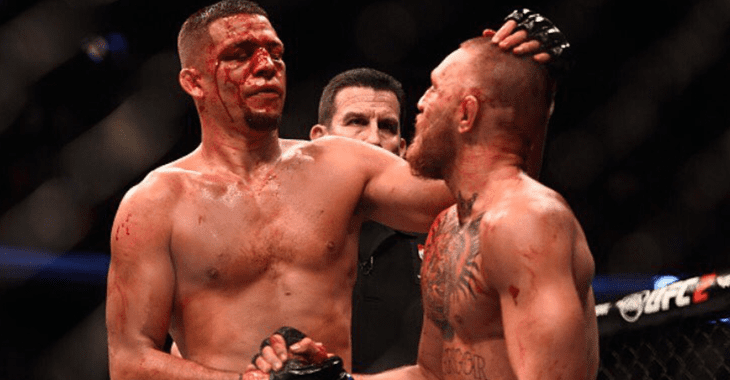 Nate Diaz and Dana White might agree in regards to Diaz' potential to not fight this year, but that's where the similarities end.
As Diaz claimed earlier this week that he was at a level of stardom and at the point of his career where he can start to expect certain treatment from his bosses at the UFC, the UFC president made sure to question that statement.
Speaking with Yahoo Sports on Thursday, White poured water on Diaz' claims about his level of stardom and the amount of fights the UFC have tried to offer him.
"We have been offering them fights," White said. "We've been offering the Diaz brothers fights, both of them, and they turn them down.
"I mean, listen, at the end of the day, what is Diaz worth without Conor McGregor? I don't know. The kid isn't in a position for pay-per-view or any of that type of [stuff]. But this could put him in a position. If he fought Tony Ferguson, it would be for the interim title.
"Obviously, if you held the interim title, you would get a piece of the pay-per-view. Diaz has to put himself in a position to make the pay-per-view money."
But, while the Dana White of old may have gone on a vicious rant about how Nate didn't understand much about fighting or how they were lying to the media and the UFC had done everything they could to get them to step foot in the cage, this is a new and relaxed Dana.
Instead, the UFC president said that he wasn't upset with the Diaz brothers, and instead feels comfortable to let them do whatever they want to do.
"It doesn't frustrate me at all because I've learned that you can't make people fight, man," White said. "It's the same thing when people ask me, 'What if this guy retires,' or 'What if that guy retires?' This is a business that, your head has to be in this game. You have to want to become a world champion. You have to want to fight. You have to go through everything it takes to get into the cage. It doesn't frustrate me at all. We'll keep offering the Diaz brothers fights until one of them says yes or they [decide to] never fight again.
"It doesn't change my life one way or another. People really like the Diaz brothers. When they get in there, they're tough and gritty and they mix it up. They're fun to watch and their interviews are fun, and funny. They're popular guys. But at the end of the day, people are excited about guys who want to win world titles and they want to find out who the best fighters in the world in each weight class. Those are the things that sell and those are the things that people are interested in."
Comments
comments