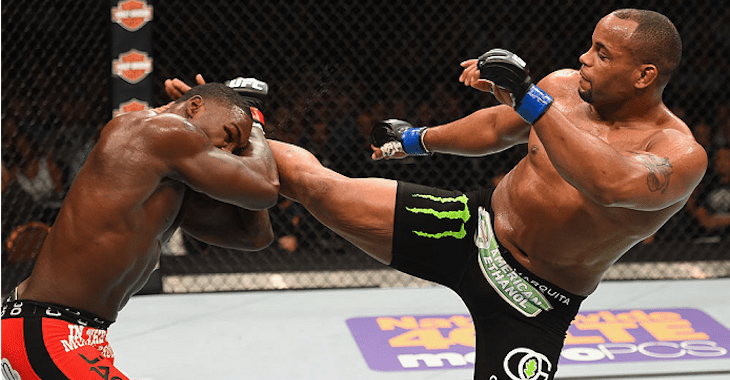 With Francis Ngannou, a fighter referred to on these and other pages as possibly the most significant heavyweight contender in years, well and truly vanquished last weekend in the cold Boston climes, Stipe Miocic, now the most successful heavyweight in UFC history, stands alone at the top of the division. With no clear contender in sight, the UFC appear to be ready to get creative when it comes to Miocic' next opponent — and they are looking in the direction of 205-pound champion Daniel Cormier.
Cormier fought (and won) the first 13 bouts of his professional career at heavyweight, beating the likes of Josh Barnett, Frank Mir, Roy Nelson and Bigfoot Silva along the way, but since then has competed purely in the light heavyweight arena. The primary reason for this, Cormier says, is the presence of Cain Velasquez, his friend and training partner in the heavyweight division.
Former champion Velasquez has had his career restricted by injuries in recent years to the point that he has competed just twice since the end of 2013 — a title loss Fabricio Werdum and a UFC 200 victory against Travis Browne. Word leaking from the American Kickboxing Academy suggests that Velasquez is hopeful of a return to active competition in 2018, with Cormier even predicting in his post-fight interview last weekend that his teammate would be "campion del mundo" by the time the year is out.
Despite this obstacle, there is little denying that a Miocic vs. Cormier title bout would be an appealing one — particularly to the UFC brass. Speaking to the media in Boston on Saturday night, UFC president Dana White said of the potential bout: "I don't see why [Cormier] couldn't fight at heavyweight. If he thinks Cain might come back, then if he won the belt he could give it up. But either way, it's a good fight. With all the defenses he has, Stipe just broke the record for most defenses, so it's a fun fight."
Cormier has stated that he doesn't intend to fight past his 40th birthday, which would put his retirement at March of next year. If indeed Velasquez does return this year, it is unlikely he will be awarded a title shot before one or two fights to prove his battle readiness. So, if Cormier was to defeat Miocic and reign as champion until he retires that would give Velasquez a definitive date to aim for to fight for a vacant title.
But before we get ahead of ourselves, there's the small matter of convincing Cormier that this is a move he should consider.
"People have talked about that fight for a really long time," Cormier said. "I did fight 13 fights at heavyweight, and I hate cutting weight, as you guys all know. I haven't really thought about it.
"It's hard for me now because Cain's in the gym a lot more. Cain's in the gym now getting back prepared to do what he does best, so I draw so much from him. Cain had a baby about a month ago and he's here with me right now. … If he's getting prepared to get the belt back, then I have nothing for that division. That will never change."
Whichever way you look at it, Daniel Cormier is the most appealing contender for Stipe Miocic's belt and if Dana White is as eager to make the match as he says he is perhaps it is time to open the checkbook.
Comments
comments