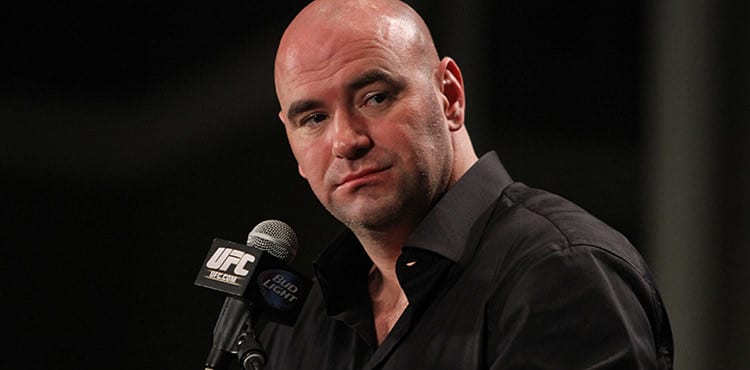 Just over a year ago, UFC president Dana White signed a five-year deal to remain in his role after WME-IMG purchased a majority holding of the world's largest mixed martial arts promotion. For the first time, the seemingly indefinite tenure White had held within the company seemed, from the outside at least, as having a finite figure on it. But, as White explained in a wide-ranging interview with MMA Junkie's lead reporter John Morgan, he doesn't plan on driving off into the sunset with a suitcase full of cash just yet.
"What am I going to do?" White said when contemplating on life outside of the fight game. "What am I going to do? People treat it like I hit the lottery. I had money before. It's not like I hit the lottery and I'm just going to take off and disappear. I love this sport, and obviously the hardest part about the sale was leaving the Fertitta brothers. We've been together for 20 years in business together, and I went through a hard time. It was like a divorce. I went through that, I got through it, and I'm back on the ball and doing my thing."
As it to prove his statement, White reveals that the company's aggressive expansion policy will expand past the markets they have explored up to this point, as well as consolidating the foundations that the UFC has laid down in the last decade.
"We're working on things in Mexico and China. Mexico, China and the U.K. right now. We're working on things in Russia, and we're working on some even bigger (expletive), which we'll probably be announcing next year. It's all good. Everybody thinks I'm going somewhere or doing something. I'm not going anywhere man. We're dug in like ticks over here and we are working on great (expletive). … We're looking at how we take combat sports to the next level."
With the combat sports narrative currently dominated by the forthcoming clash between Conor McGregor and Floyd Mayweather next month, a collaboration which would previously have been described as a flight of fancy, the UFC are displaying a malleability not seen since (and far eclipsing) the time White sent Chuck Liddell on an ultimately ill-fated jaunt to PRIDE in late 2003.
Deprived of his top star in advance of the Mayweather fight, as well as the inactivity of the likes of Ronda Rousey, Nick & Nate Diaz, Georges St-Pierre and Jon Jones in recent times White could reasonably lay claim that the lack of availability of the company's top pay-per-view draws has hurt the UFC's numbers this year — but White says that this is just part and parcel of the fight game.
"That's the way this business works," White continued. "When you're coming off a year like we had last year, you just can't keep rolling. First of all, all those guys fought, people end up injured, and we've still had a killer year even though the blockbuster fights weren't there for us at the beginning of the year. The way that shit goes is, as soon as everybody gets healthy again, the second half of your year is going to be killer."
Comments
comments