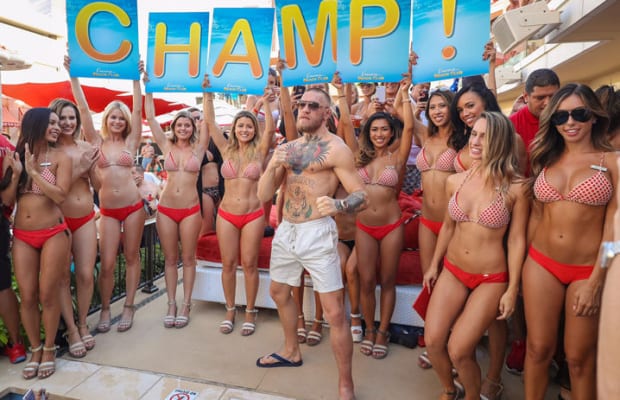 Dana White says that he is going to pull out all the stops ahead of Conor McGregor's January 23 return to the cage against Dustin Poirier at UFC 257, as the UFC president revealed that the highly-anticipated rematch will form the centrepiece of 2021's International Fight Week in Abu Dhabi. 
The UFC's annual International Fight Week traditionally takes place in Las Vegas during the summer but McGregor's forthcoming return has led to White and the UFC switching up their plans, he said during an interview with Barstool Sports on Thursday.
"I'm looking to make it International Fight Week," White said. "The new Etihad Arena will be open, and that thing was designed with us in mind. Concerts, pool parties, all kinds of cool stuff. And, yes, I hope to bring fans back. So imagine this, all the stuff that went on, all the things that people have seen all over the world with Fight Island, now you'll finally get the opportunity to come there and be a part of it … That's what I'm shooting for.
"What I would love to do is we'll get there, and do a Saturday, Wednesday, Saturday fights," White said. "So we'll do three fights in a week, pool parties, concerts and all kinds of fun stuff … We go out there and kill it. It'll be good to have fans."
International Fight Week has long been a permanent fixture of fight fans' calendars. The week-long event traditionally features several fight cards but several other events open to the public, such as grappling tournaments and meet and greets — but judging by White's comments, the previous iterations of the UFC's annual event will pale in comparison to the McGregor-led one planned for January.
"And the thing is, from 'Fight Island' we can get fans all over the world there. It's an easy destination to get to, a fun destination to go to, and we can just fucking blow the doors off this thing," White said.
"I'm ready for some fights with fans. I'm ready to go to a live concert," White said. "I'm ready to have some parties. I'm gonna go to all this shit. I want to mingle with the fans again. I want the fans back. We've figured this whole thing out up to now. We'll figure out how to do this safely and pull this thing off in Abu Dhabi."
But what exactly can we expect? Quite a lot, to put it mildly. Ahead of a previous fight card in Abu Dhabi, UFC 242, the UFC arranged for the Red Hot Chili Peppers to play a concert as part of a series of fight week activities for fans and while no firm details have yet been released to the media as to their specific plans, you can perhaps expect more bands of that stature — or maybe even RHCP once again — to perform.
And as for the pool parties? Abu Dhabi's average January temperature is around 24 degrees celsius, so those lucky enough to attend can expect to spend more than their fair share of time knocking back a Proper drink poolside.
McGregor has previously held pool parties after his UFC 189 win against Chad Mendes and then in the following year after his UFC 202 win against Nate Diaz — and let us tell you, these aren't to be missed.
Comments
comments