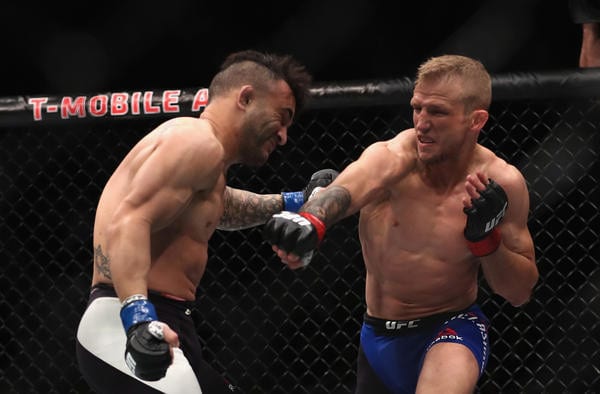 It has been no secret that the UFC, and in particular Dana White, have been going all-in in recent months in their attempts to book a flyweight title bout between champion Demetrious 'Mighty Mouse' Johnson and the newly-crowned bantamweight supremo TJ Dillashaw.
Johnson turned down a potential bout with Dillashaw several months ago, preferring instead to defend the 125-pound crown against Ray Borg — a fight which brought another spectacular finish and the record for the most consecutive title defenses. But now, and with a no clear contender currently waiting in the wings in the flyweight division, the timing might be right for the a champion vs. champion bout at 125.
Speaking to the media after last weekend's UFC 218 card in Detroit UFC president Dana White reaffirmed his commitment in making the Mighty Mouse vs. Dillashaw fight, saying: "Yeah, that fight's going to happen. We haven't announced it yet."
However, Ariel Helwani of MMA Fighting reports that the fight, while clearly in the promotion's sights, is no clearer to being done now that it has been in the past.
I'm told the fight is nowhere near done. They want it but no closer to done than it was the night of UFC 217 when Dillashaw won. https://t.co/j5nsese96e

— Ariel Helwani (@arielhelwani) December 3, 2017
Meanwhile, Dillashaw posted a video to Instagram which shows him in the process of what his strength and conditioning coach refers to as a 20 week, 64-p0und mass reduction with the goal of making their fighter eligible for 125-pound title contention.
.
Comments
comments