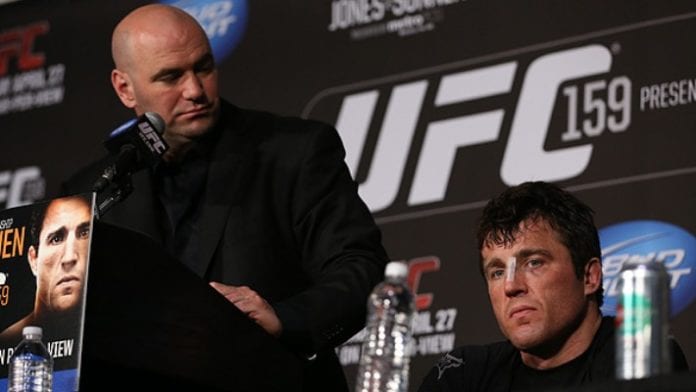 UFC president Dana White isn't particularly well known for offering praise to fighters who represent competing organisations but let's face it, Chael Sonnen is no ordinary fighter. 
Three-time UFC title challenger Sonnen announced his retirement from mixed martial arts following defeat to Lyoto Machida, closing out one of the more colourful careers in mixed martial arts history. The 42-year-old had an impressive an opponent list throughout his career, with his last thirteen opponents all having held world titles at one point or another in their careers and although Sonnen wasn't able to replicate this achievement himself, it certainly wasn't for a lack of trying.
Sonnen would fall short to Anderson Silva twice in UFC title shots, as well as Jon Jones once in the light heavyweight division. A lot will credit his win against then-undefeated Paulo Filho in the WEC as being a de facto world title win but because Filho didn't make weight for the fight (which Sonnen won easily), he wasn't credited with the official world title despite Filho acknowledging Sonnen's claim to the belt.
Now officially a full-time analyst, Sonnen already has a new career stretching out in front of him and speaking to Sirius XM, UFC president Dana White made it clear that he holds a lot of respect for the retired fighter.
"I like Chael a lot. I have a very good relationship with Chael," White said to Sirius XM via MMA Fighting. "I like the fact that this is the hardest place in the world to stay and make a living here. It's a very hard place.
"You have to be one of the best in the world to stick around here and when guys can't stick around here anymore and they go somewhere else and they can get paid and make money, I love it. Good for them."
Furthermore, White praised Sonnen's status as a game-changer when it came to fight promotion.
"I don't think Chael was necessarily a bad guy. Before Conor McGregor, Chael was the best guy out there who knew how to push buttons and not only knew how to piss off other fighters but also piss off the fans and do things like that."
Comments
comments