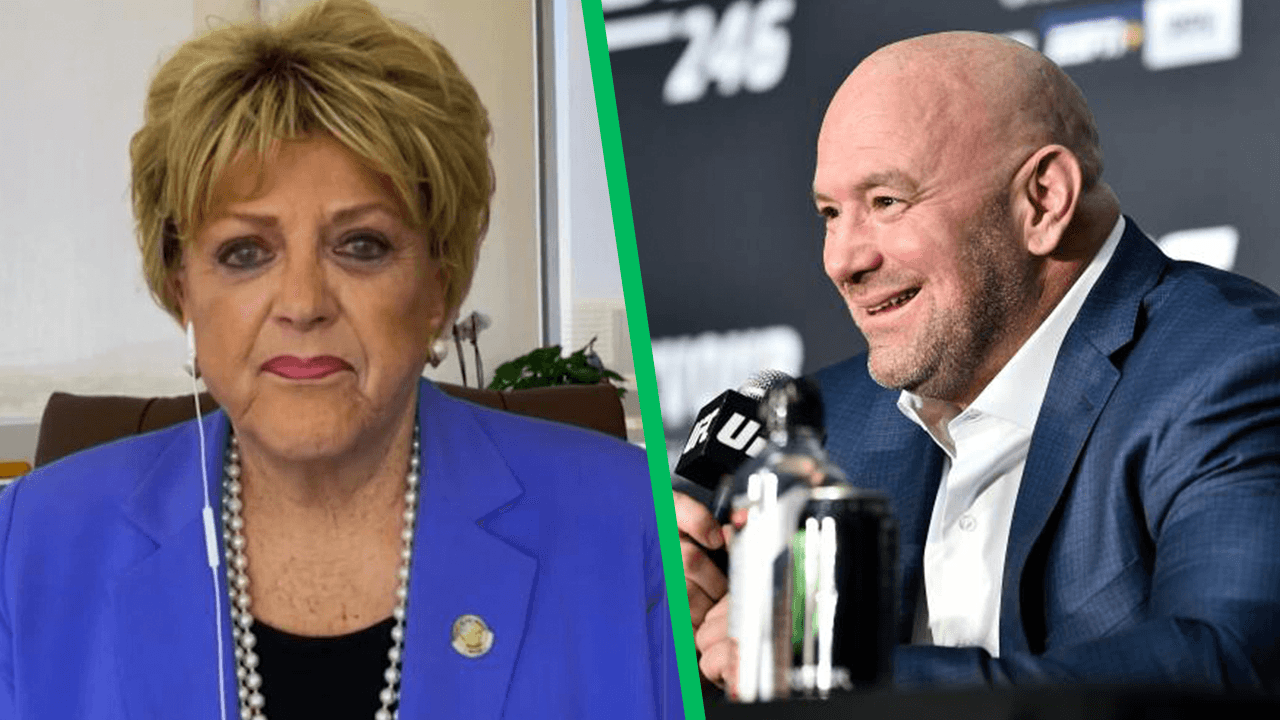 Dana White is both a big business owner and a proud member of the Las Vegas community.
Because of that, he wants to see the city and businesses of Vegas open up as soon as possible as the coronavirus allows, but he wants to do so in a way that won't see people put in unnecessary danger. And while he's been open about his desire to see people get back to work, White is taking more care with the concept than some of his fellow Las Vegans.
Case in point Las Vegas Mayor Carolyn Goodman, who raised eyebrows when she told CNN's Anderson Cooper earlier this week that she was volunteering the citizens of Las Vegas to be a control group in reopening while the coronavirus pandemic continues on.
While White might understand the sentiment of Goodman's desire to re-open businesses and start the economy, he's not quite going out as reckless as the mayor.
"I don't know how you go on Anderson Cooper and not be prepared for the questions that are going to be asked," White said, speaking to Kevin Iole of Yahoo Sports. "Especially when you're being so aggressive about opening up. The reality is though, there's a lot of smart people in this city who run very big businesses and care about their employees. What you want to do is, when you open back up, you want to do it right the first time so that we don't have to shut down again.
"And I know from talking to the Fertitta brothers to other people who run and own casinos in this town — they're working very hard to figure out how to do this safely and the right way. Everbody's been quarantined. Everybody has a family. Everybody wants everybody to be safe. It's not like people are like, 'Money means everything. Let's get out there and open it'. Everybody wants to be safe and do it the right way."
Interestingly, Nevada Governor Steve Sisolak has been one of the more proactive in the United States in term of lockdowns and quarantine, something White believes should see him earn plaudits.
"I actually think [Gov.] Sisolak has done a good job. I think he's done a good job and people have taken what he's said seriously," White said. "For Vegas to shut down… it's a thing for people who live here can't even comprehend, but we did it, and everybody's been quarantining and I think it's been handled the right way.
"The biggest fear for everyone to open up first, especially when you're a destination like Vegas, is the amount of people that will flock here. You're going to have groups of people that have been locked up for god knows how long … and what's going to happen is if we open up in Nevada, they're going to be pouring out of California and coming to Nevada. There's so many different things that you have to look at when you're a governor or whatever it might be that need to be dealt with."
In terms of sports, White has been one of the most driven and determined to bring his product back to life, pushing ahead with the UFC schedule despite criticism from all areas, including being asked to "stand down" by his partners at ESPN.
White believes his acceptance of live crowds being off the table for the future shows he's taking it more seriously than people give him credit for.
"People think that I don't take this serious because I wanna come back so fast and all this other stuff," White said. "It's not that I don't take it serious, I take it very serious. I don't plan on having a gate for a very long time. Things like going into the week of where we have open workouts and all these things that we do for the fans — everybody wants to ask me, 'Location, location, location'. Location doesn't even matter anymore. It's on ESPN. That's all you need to know and all you need to care about.
"I'm already thinking way ahead of these types of things. All I need to worry about is making sure everybody is safe and I can put on these events. I don't need a crowd."
****
The UFC 249 card is headlined by an interim lightweight title fight between Tony Ferguson and Justin Gaethje. You can see the latest odds for all of the UFC 249 fights via the our official betting partner Parimatch. 
Comments
comments