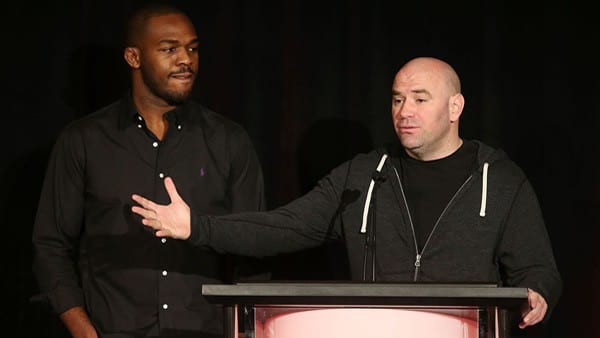 As is customary of a Daniel Cormier fight week, questions have started to be asked about another fight with longtime rival Jon Jones.
It seems the two men will be linked together for their entire careers, with their intense dislike for the other becoming the thing of MMA lore. Now, as Cormier enters the twilight of his career, it seems likely that, should he defeat Stipe Miocic this weekend, he and Jones will trade blows one last time.
Certainly, UFC president Dana White seems on board.
"I've been asked many times about that fight," White said at a media scrum following a recent episode of Dana White's Contender Series. "Do I think that fight needs to happen? I don't. But do I think it should, and do I think people want it? Absolutely."
The only discussion then, becomes about the weight they fight at. Ever since Cormier's winning the heavyweight world title last July, most have felt a rematch taking place in the larger division would add a new element to an already seen match up.
Just so happens that the two people who disagree are the two people who would be the ones putting on gloves, as Jones and Cormier are adamant that a third fight should take place under the original dynamics of the first two.
Which, if that's the way they feel, White won't get in the way.
"I want that fight at heavyweight so bad, they won't do it," White said. "Not only has Jon said no, Cormier has said no, because Cormier doesn't want to beat him at heavyweight and then.. I was like, 'Listen, you beat him at heavyweight, you fight him at 205 again.' We'll probably watch that fight 10 times if you guys wanna fight 10 times.
"They won't do it, and listen, I got Jon Jones who's the greatest ever. You got Cormier, also one of the greatest ever, both been champions forever. I'm not gonna fucking fight with them, man. If they want to fight at 205, I'm not gonna argue with them. Two of the biggest kings ever in the history of the sport. That's what they want? That's what they get."
Comments
comments