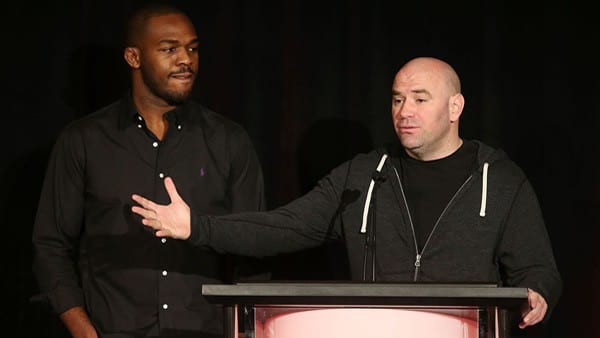 It's fair to say that UFC president Dana White has had just about enough of Jon Jones' scandals.
After Jones tested positive for the steroid Turinabol following his recent return to the cage at UFC 214, White has been nothing but shortcoming about his disbelief that Jones could once again find himself embroiled in controversy. It's the latest in a long line of issues the former UFC light heavyweight champion has faced, including hit and runs, DUI's and more.
According to White, who was speaking on the Jim Rome Podcast, this latest incident is just proof that Jones is who Jones is, and no amount of drama will change him.
"He's not a 'just about the money' type guy. He's really not that kind of guy," White said of Jones. "I just think that Jon likes to party and he's a guy that likes to go out and have fun and do whatever it is that he does, and I think the money and the fame made it a thousand times worse.
"This guy couldn't control himself and would completely go off the deep end. I'm not sitting here acting like Mr. Holier-than-thou, we've all gone and had fun and probably partied a little too much here and there, but he consistently, consistently kept doing it. Even when he would completely fuck up, he would pull himself together and come out and completely fuck up again. Even this last time when he came back, fans forgave and he was the most popular fighter and everybody wanted to see this guy succeed, and he did it again. It's just unbelievable.
"Even worse than that, this guy was looking at jail time. This judge gave him another shot and this guy was looking at some serious jail time and a lot of bad stuff and that still didn't wake him up. If that's not a wake-up call, you're unfixable."
The comments come at an interesting (if coincidental) time.
Yesterday Jones made his first public 'statement' about the UFC 214 incident on his social media. Posting videos of himself hitting pads, as well as a slideshow set to upbeat music, Jones wrote that "if I made it to the top of the mountain once, I can do it again", hinting that he still sees a future for himself in fighting.
—
Comments
comments